Description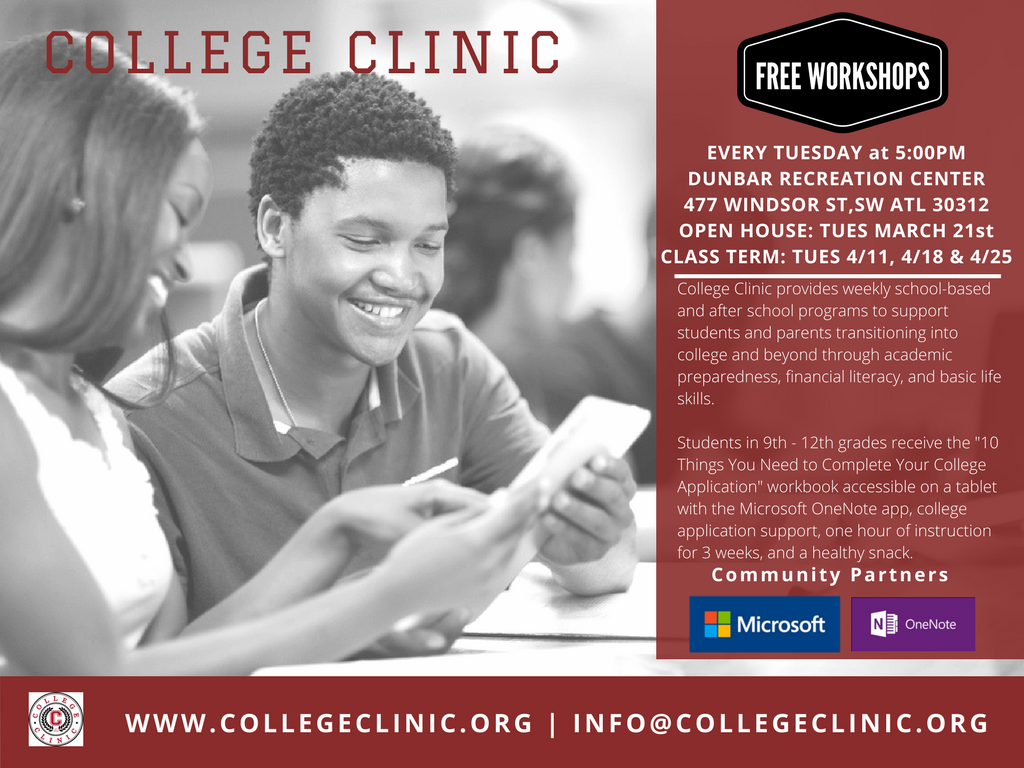 Hello Community!
College Clinic helps students and their families transition into college and beyond through academic preparedness, financial literacy and basic life skills. Our college-bound programs bridge students together with high school counselors, college representatives, and career advisors to help students through the college application process, selecting their college of choice, and scholarship and financial aid opportunities. Students will be provided will individualized counseling, start planning for their future, and have access to other college resources to help prepare students for their lives after graduation.
We invite you to the COLLEGE CLINIC OPEN HOUSE to have a preview of our curriculum, 10 Things You Need to Complete Your College Application, which is a 10-step easy guide through the college application process. Guests will have the opportunity to visit the Teen Room where we will teach our workshops, see our "10 Things"curriculum and get hands-on instruction interacting our tablets, and meet the College Clinic instructional team.
For more information, please visit our website at www.CollegeClinic.org
COLLEGE CLINIC OPEN HOUSE
Tuesday, March 21st at 5:00PM - 6:30PM at Dunbar Recreation Center in the Teen Room
All workshops at held on Tuesdays at 5:00PM in the Teen Room at Dunbar Recreation Center
WEEK 1 (Tuesday, April 11th): Orientation to "10 Things You Need to Complete Your College Application"
1) Official High School Transcript ​​
2) Standardized Tests & State Graduation Requirements
3) College Tuition, Application Fees, and Housing Deposits
4) High School Counselor and School Evaluations
WEEK 2 (Tuesday, April 18th): College Application Process
5) Letters of Recommendations
6) Student Autobiography
7) The College Essay
8) Community Service
WEEK 3 (Tuesday, April 25th): Complete the College Application & Student Celebration
9) Financial Aid & Scholarship Documents
10) College Application Submission Process
Complete a College Application