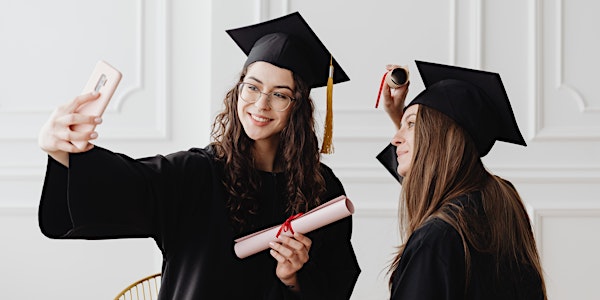 College Application Workshop
This workshop is for high school students who want guidance from professionals on how to best complete college applications.
About this event
Global Virtual Academy welcomes Duquane University's (Pittsburgh, Pennsylvania) Assistant Director of International Admissions as our guest to provide this valuable and insightful workshop to students preparing to apply for college.
Applying to college can be a confusing process. You may have some of the following questions:
Where do I start?
How do I choose a college I want to go to and then begin applying?
When I apply, what information do I need to complete an outstanding application?
Or, you may be so overwhelmed, you're not even sure what questions to ask. We've got you covered!
Book this event if you are:
Currently applying to colleges
About to start applying to colleges
Wanting to know what to expect when applying
The college application process truly begins in middle school. At this point, students have high school classes available to them and can begin completing these courses. This kind of initiative is a great first step towards developing an academic portfolio that will speak volumes!
If you did not get an early start at developing your high school portfolio, do not fear! We will discuss how to create engaging college applications that will show college admissions counselors you are serious about college and want to continue to develop yourself in their program.
The process of submitting a college application is not simply one step. Prior to sitting down to complete the application there are milestones such as: online platforms to enroll in, tests to take, funding to find, forms to fill out and forms to collect. We are here to provide you with the information you need to create an outstanding, comprehensive college application that highlights your strengths and tells your story effectively.
Come to this event if you are:
Currently applying to colleges
About to start applying to colleges
Interested in what the college application process looks like so you can begin building your academic portfolio now
Did you know that the average fee to submit a college application is $50?
Limited spaces are available for this workshop.
Duquane University is a Division I private university located in Pittsburgh, Pennsylvania. It is ranked #151 among 443 U.S. national colleges, and #68 in best value schools. Student to faculty ratio is 13:1 with various forms of academic and campus support available to each student. "The most popular majors at Duquesne University include: Nursing Science; Biology/Biological Sciences, General; Marketing/Marketing Management, General; Early Childhood Education and Teaching; Accounting; Psychology, General; Finance, General; Political Science and Government, General; and Physical Therapy/Therapist. The average freshman retention rate, an indicator of student satisfaction, is 85%." - U.S. News.com
Need help ASAP? We are here for you! Contact us at Hello@globalvirtualacademy.com if you are looking for college prep assistance immediately.