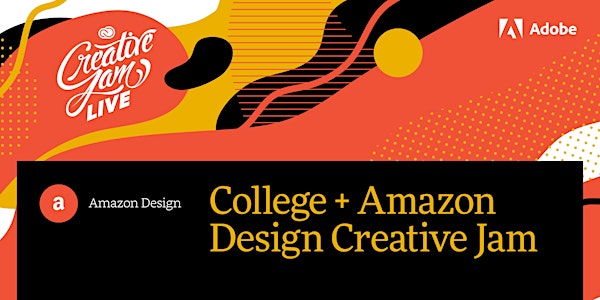 College + Amazon Design Creative Jam LIVE with Adobe XD
Register with a team to compete with students in the US, UK & Canada in a two-week Creative Jam LIVE to win prizes and bragging rights.
About this event
Use Adobe XD to design an app and present your project to industry experts for insightful feedback. You could win fantastic prizes and bragging rights!
Join Adobe, Amazon Design, and college students across the United States, United Kingdom, and Canada (excluding Quebec) in a beginner-friendly designathon to identify solutions that matter.
Create a team, invite up to 2 friends to join your team, and then get details before we begin! No experience necessary.

The role of Amazon Design Community (ADC) is to empower teams and individuals across Amazon to strengthen, connect, and develop Amazon into the best home for creative professionals on the planet. Learn more at amazon.design.
All registrants will receive details like how to prepare and the event URL closer to the Jam's start. Here are the basics you need to know.
AGENDA
Attend two 2-hour sessions online over the course of two weeks and work with your 2- to 3-person team to compete, from anywhere you like.
Kickoff: Thursday, Sept 10 @ 11:00 am PT / 2:00 pm ET/ 7:00 pm BST In this 2-hour kickoff, you'll get inspired by an Amazon Design leader, get a quick training session in Adobe XD, and learn how to create a simple interactive mobile prototype! Then we'll give you a design challenge for your team to answer.
Working time: Thursday, Sept 10 – Friday, Sept 18. Work virtually with your team to design your digital tool, then submit your prototype for judging. You'll also have a unique opportunity to sign up for a mentoring session with an Amazon designer to seek input on your concept or design during the working time! Submissions are due on Friday, Sept 18 @ 10:00 am PT / 1:00pm ET / 6:00pm BST.
Finale: Tuesday, Sept 22 @ 11:00 am PT / 2:00 pm ET/ 7:00 pm BST Join the 2-hour presentation and awards ceremony to find out which teams are finalists and will present their work live on-screen to Amazon Design & Adobe judges. Winners go home with serious Amazon gift cards in their pockets!
PRIZES PER TEAM MEMBER
1st place: $500.00 USD Amazon gift card
2nd place: $400.00 USD Amazon gift card
3rd place: $300.00 USD Amazon gift card
4th place: $200.00 USD Amazon gift card
5th place: $100.00 USD Amazon gift card
The rest of the top 10 finalist teams and honorable mention teams receive a $50.00 USD Amazon gift card.
Every team that submits a project by the deadline receives a one-year student subscription to the complete Adobe Creative Cloud suite (worth up to $240)!
See official rules for CAD and GBP conversions.
NO EXPERIENCE NECESSARY!
Never used Adobe XD or Creative Cloud before? No problem!
Register as part of a team by Wednesday, September 9 at midnight PT or you'll miss out!
REGISTRATION REQUIREMENTS
You must be a currently-enrolled student of an accredited college or university in the United States, United Kingdom, or Canada (excluding Quebec). Registrations from students not residing in these countries will be cancelled.
You must register with a valid campus-issued email address (.edu or equivalent).
You may register as part of a team of 2 or 3. All registrants are asked to join together to form teams of 2 or 3 before the Jam starts. All Jam participants are required to be on a team.
Each person can only register for one ticket, once. Duplicate registrations will be cancelled.
SOFTWARE/HARDWARE REQUIREMENTS
The Jam takes place on an online platform called Crowdcast. You'll need a solid wifi/ethernet connection to watch and participate effectively in the Jam.
All participants need a computer with the most recent version of Adobe XD installed. Check the system requirements needed to run XD on your computer. You can use a free XD starter plan if you need access to Adobe XD.
YOU OWN YOUR WORK!
Project outcomes are a demonstration of your talent and process and participating teams will own their work.
FINE PRINT
Registration is limited to undergraduate and graduate students currently enrolled at a college campus in the United States, United Kingdom or Canada (excluding Quebec). Registrants must register with their official campus email address in order to participate and win. Your responses and information are securely collected and stored by Adobe's registration provider Eventbrite in accordance with Adobe's Privacy Policy. NO PUR. NEC. Enter by 09/09/2020. Must be 18+. For complete details, eligible countries, and promotional item descriptions see Official Rules. Void where prohibited. Originator: Adobe
If you have any questions about registration, please contact the team at jams@adobe.com.