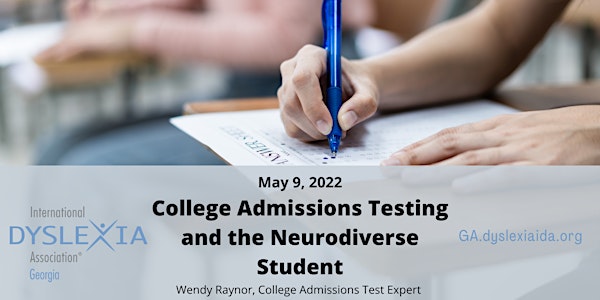 College Admissions Testing and the Neurodiverse Student
Gain a better understanding of the current standardized testing landscape and how to navigate the accommodations process.
About this event
The International Dyslexia Association Georgia is hosting this live webinar as a part of the Branch's outreach initiative. This event is FREE and OPEN to all. Please register to reserve your spot. You will be invited to submit a question when you register. Attendees may ask additional questions through the chat box during the presentation. The presentation will be approximately one hour followed by a Q&A period.
Description
Navigating the world of college admissions testing is nerve-wracking under the best circumstances. Add in your child's dyslexia, and the process can be terrifying. Join us for a presentation by Wendy Raynor, College Admissions Test expert, to better understand the current standardized testing landscape and how to navigate the accommodations process.
Presenter
Wendy Raynor has over 10 years of experience as a top standardized test tutor in Washington DC and Atlanta. She particularly enjoys working with students who have mild to severe Learning Differences as well as students with test anxiety. She believes her ability to connect with these students (and make them highly successful on these exams) stems from the fact that she too overcame obstacles relating to having diagnosed LDs (dyslexia, dyscalculia, and dysgraphia), and, as a result, she also experienced high levels of test anxiety.
-Member and Accommodations Liaison for National Test Prep Association (NTPA)
-Member of the Southern Association for College Admission Counseling and National Association for College Admission Counseling
_________________________________________________________________________
A NOTE ON REGISTRATION: This is a Zoom Webinar Event. After registering, you will receive a confirmation email. If you do not see that email, please check your junk mailbox.  You might want to save the confirmation email. The email includes a "View the Event" button. When you click on that button, you will be asked to "Sign up or Log In."  Create an Eventbrite account (username and password) or click on "Continue with Facebook" or "Continue with Apple."  Some attendees will need to click on the Connect with Zoom button. This provides an extra layer of protection for our attendees and will allow you access to the registrant-only event page.