Description
Join us for a fun, informal gathering of Rochester Art Collectors members. This is a chance for members to share beloved works from their private collections, discuss ideas, pick up a few tips and meet other collectors.
We're meeting at Rochester's longest continuously operating commercial art gallery, Oxford Gallery for two reasons: First, it's a great space to pick up some art and, second, we've asked the proprietor, James Hall, to talk with us.
7:00 pm - We'll go around the table. You can bring up any topic related to collecting local art.

Those who come are encouraged to bring a small work of art from their collection (a work created by someone other than yourself) to share with the group. Our suggested theme for the evening: There may be one piece in your collection that marks a beginning. It may not be the very first piece you purchased but it is a piece that marked a transformation in your collectoin or your thinking; or it represents an important new direction, an enduring interest or a turning point.
7:30 pm - Special presentation by James Hall on collecting 18th and 19th Century works of art as compared to works created by living artists. Q&A will follow.
A limited amount of light nibbles and cold beverages will be available for attendees.
NOTES:

Oxford Gallery is on the lower level floor of the "Roosevelt" apartment building on the Northwest corner of Park Avenue and Oxford Street (267 Oxford Sreet).
Please feel free to park on-street anywhere near the building. Please do not park in the tenant parking lot.
When you enter the vestibule of the building ring the "Oxford Gallery" doorbell to be admitted. Once inside the building lobby turn to your left and follow the signs downstairs to the gallery.
This event is free however you must be a member of Rochester Art Collectors to attend. Space at this event is limiited to just 30 members. Registation in advance is required. If you are not a member and you would like to join, please click here.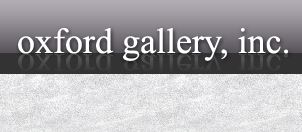 Oxford Gallery's exhibit is entitled "Transformations" and features work by three area artists: Anthony Dungan, Phyllis Bryce Ely, and Barbara Page. The exhibit begins Saturday, October 20 and continues through Saturday, November 24.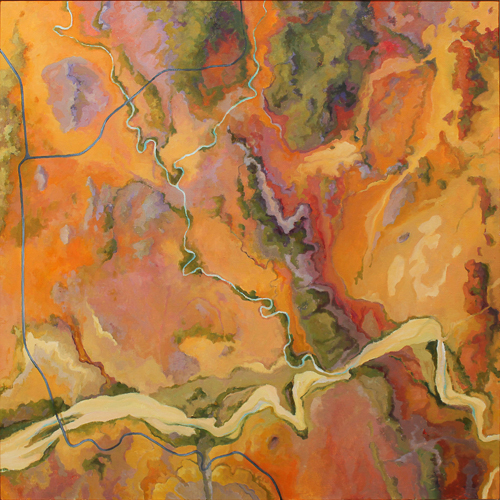 Barbara Page came to national prominence with "Rock of Ages, Sands of Time," an installation consisting of 544 square panels, each panel representing one million years of the history of the earth. The installation formed the centerpiece of the Museum of the Earth, which opened in 2003 outside Ithaca, NY. With uncanny consistency, each panel reads as both a representation of a fossilized remains and as a painterly abstraction, and our fascination resides in its assuming a dual role as object of scientific interest and object of beauty. This project was followed by a similar installation of 268 porcelain tiles lining a pedestrian bridge at the North Carolina Museum of Natural Sciences.
Many of Barbara's more recent works combine her love of painting with her love of flying. (She is an accomplished pilot.) Upon initial viewing, we recognize each painting as an aerial view of a landscape topology. As we view it, however, it transforms into a pattern of vibrant colors and abstract forms. And this is the intention behind most of Barbara's work. It exists as both the representation of a physical object and an object of pure beauty in its own right. And our fascination lies in our watching the transformation from representation to abstraction.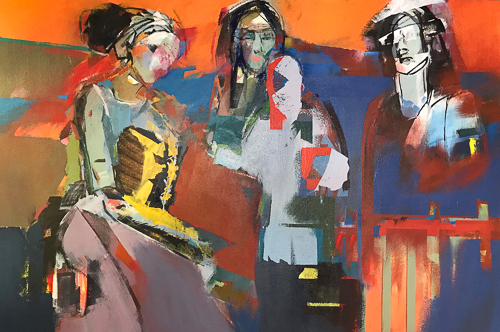 Although Anthony Dungan sometimes works in a purely abstract manner, most of his paintings have a physical referent in the human figure. It may, however, take the viewer a few moments to realize this. Forms are fractured and partial, and we view them through shifting planes and changing perspectives. The images are imperfect and fleeting, and we glimpse them only momentarily, as if they were in motion. They seem to change before our eyes the longer we view them. As the artist explains, "I want you to discover something new every time you view the piece, and to have the painting grow and expand as you view it time and time again." This ever-changing quality of Dungan's images results, in part, from the painted facture he creates using masking, troweling, and pouring, as well as brushing. The artist states that his intention is "for the viewer not to know how the image was put onto the canvas." Our own uncertainty regarding the "what" and the "how" of the image endows the work with an overriding sense of enigma.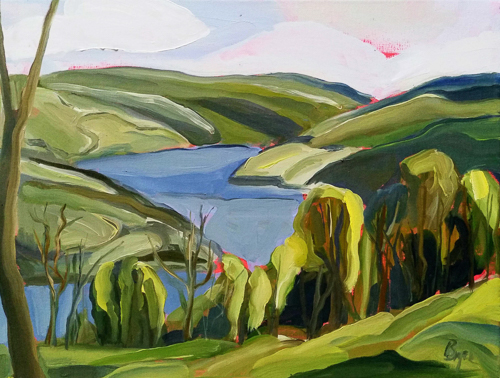 Those of us from the north country will probably recognize in the landscapes and cityscapes of Phyllis Bryce Ely a certain kinship to the style of Canada's Group of Seven. Although rooted in specific times and places, they communicate more by ideogram than by actual representation. Small conical forms are trees, while large rounded forms are hills. Swirling bands of white are clouds, with the source of light indicated by the blockish "shadows," and garish skyscrapers crowd us in almost human fashion. Even the perspectives are often contorted in a way best described by Northrup Frye in reference to the Group of Seven painters: "One notices in these paintings how the perspective is so frequently a twisting and scanning perspective, a canoeman's eye peering around the corner to see what comes next." The image has been stripped of all non-essentials, allowing us to confront the elemental force of nature or the monumentality of the cityscape. The result is an image of almost mystical power.
---
For over four decades, the Oxford Gallery has brought the finest in contemporary art to private and corporate collectors in upstate New York.

The Oxford Gallery's preeminence among area galleries rests upon its representation of over 60 artists of regional and national acclaim.

The Oxford Gallery maintains several thousand works in inventory, including paintings, limited edition prints, sculpture, and works in mixed media.

Oxford Gallery also offers a fine selection of American and European paintings from a range of periods: 18th, 19th, and 20th century artists.