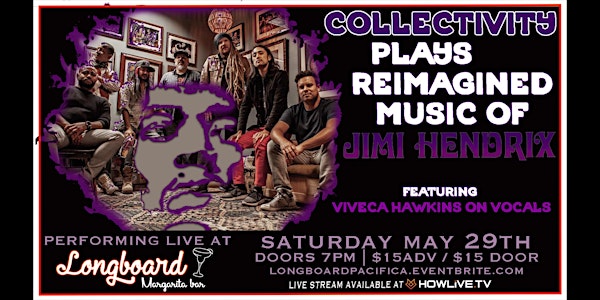 Collectivity Plays the Music of Jimi Hendrix
Location
Longboard Margarita Bar
180 Eureka Square
Pacifica, CA 94044
Collectivity, one of the Bay's best group of All-Star musicians, plays the reimagined music of Jimi Hendrix. Don't miss out on this special
About this event
COLLECTIVITY
--Ft. Members of New Mastersounds, Whitesnake, Fantastic Negrito, Lyrics Born, Jazz is Phish, Booker T and the MGs, Poncho Sanchez, Boz Scaggs, Etta James and many more,
--Collectivity Is a Bay Area powerhouse, jazz funk psychedelic dance party coming like a freight train for your mind and booty. These are seasoned vets of the music industry, banding together to give you a pumped up high energy show of collective improvisation and expanding exploration.
Members:
Uriah Duffy- Whitesnake, Too Short, Christina Aguilera, Cee Lo
Dan Casares- New Mastersounds, Jazz is Phish, Atta Kid
Mike Olmos- Etta James, New Mastersounds
Darian Gray- Booker T, Fantastic Negrito
Christian Pepin- 2x grammy winner, Pancho Sanchez, Mulatu Astake
Ben Misterka- Lyrics Born, Fred Yonnet, Tommy Igoe
Kevin Wong- Lyrics Born, Jazz Mafia.