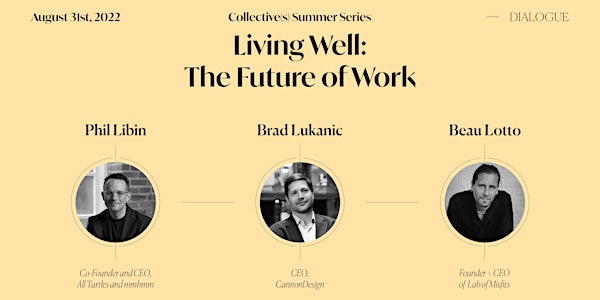 Collective(s) Series: Living Well: The Future of Work
Join Rimma, CEO of DIALOGUE, as she is joined by special guests, Brad Lukanic, Phil Libin and Beau Lotto.
About this event
Topic Description :
The place of work has never been more ripe for transformation. Over the past two years, amid massive changes, we've discovered an array of opportunities to redefine the way we live in the context of how we work. No longer is the industrial revolution–driven workplace a desirable outcome, but rather it is long a thing of the past. So how do we now see the overlap between our professional and personal lives? And do we see the world of work supporting these challenges? What must be considered as we pave this new path forward? How can we make sure these spheres enhance and support each other?
In this fourth dialogue of the Collective(s) Summer Series, we'll meet the leaders making strides in shaping this unique future. They include Brad Lukanic, who, as CEO of Cannon Design, leads a team of more than 1,500 globally distributed people who are shaping the future of cities and large-scale care facilities, and who create work environments that improve cross-disciplinary thinking and engagement. Joining Brad is Phil Libin, co-founder and CEO of All Turtles, a product studio exploring the symbiosis between healthy workspaces and healthy living, with a particular emphasis on the ways environment influences how companies can motivate and retain workers as they create new structures of work. Our third guest will be Dr. Beau Lotto, a neuroscientist and world-renowned expert in perception whose research explores the ways in which we experience the world through our own versions of reality.
Together we'll explore the human needs shaping the future of the workplace. What new structures of work are most vital? What needs are shaping decision making for leaders? Do Millennials and GenZ look at these things differently? What are the problems that still need solving and where are the opportunities to exploit them? How can we rethink work in the context of how we live, rather than how we live being in the context of work?
About DIALOGUE's Summer Series:
Are you a leader who influences change in your industry? Are you interested in exploring the pillars of our future society and culture through meaningful dialogue? Have you been thinking about the implications of the pandemic and the changes in how we live, how we work, and how we relate to and with one another?
The DIALOGUE Collective(s) Summer Series is a program of fireside chats highlighting the foremost thinking across sectors across five key topics:
1. Future of Care Anywhere - June 2022
2. Cities and City Centers of the Future - July 2022
3. Aesthetics, Healing & Mental Health - August 2022
4. Living: The Future of Work - August 2022
5. Digital to Physical: Engagement & Experience in Care - September 2022
Collective(s) is an invite-only, salon-based think tank bringing together the foremost thinking across sectors to help you create bigger ideas, hone your thought leadership, and grow your capacity as a leader with other brilliant minds.
This series of virtual sessions are neither a webinar or a conference, but rather a space for dialogue, each of these five, 80-min events is hosted by the DIALOGUE team and founder, Rimma Boshernitsan, and takes the form of group dialogue followed by an extended Q&A – all in an intimate environment, carefully curated to maximize engagement.
Be part of the conversation that looks at intersections of industries with some of the world's top leaders; expand your thinking and influence
Engage your curiosity to transform your industry or create change in your organization
Ask questions; become a more informed leader; elevate your thought-leadership
If you're an organizational leader in a traditional or non-traditional environment who is leading change, you won't want to miss this.
Spaces are very limited. Please reserve your spot early. Participants can register for more than one session.
About DIALOGUE:
DIALOGUE is a strategy advisory. We help leaders make sense of the cross-sector forces acting on their business and shape them into meaningful action for growth. https://in-dialogue.co/