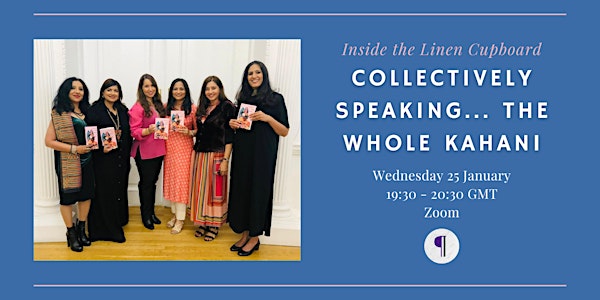 Collectively Speaking... The Whole Kahani
Join Linen Press and The Whole Kahani for the second author event in our series of online talks, Inside the Linen Cupboard
About this event
Inside the Linen Cupboard
Collectively Speaking...
The Whole Kahani
The Whole Kahani (The Complete Story) is an established collective of acclaimed south Asian writers, now in its 10th year. Together they have published three anthologies, as well as award-winning novels, stories, life writing and poetry as individual authors. In this online author event, five members of The Whole Kahani will talk about their experiences of writing within a supportive framework and give tips on workshopping. They will read from their third anthology Tongues and Bellies, and their talk will be followed by a short Q&A session.
Submit your questions for The Whole Kahani to: kate.williams@linen-press.com
Click here to purchase a copy of Tongues and Bellies from our online bookshop, now on sale for just £6!