COLLECTIVELY FASHIONABLE

Saturday, July 28, 2018 from 12:00 PM to 7:00 PM (EDT)
Event Details
Event Description
Women of Color are known to be the ultimate trendsetters! Yet, we are a minimal percentage of the fashion industry. How does one go about creating a profitable fashion brand? How do you create a brand that survives beyond trends and become a cultural icon?
Collectively Fashionable will feature seven female founders in the fashion and apparel industry who will discuss their successes, missed opportunities, challenges, and future vision for their brands. 
We're discussing:
The different avenues in the fashion industry

How each founder started their brands

Funding routes and options

Marketing plans and execution 

Scaling and Brand Culture

And much much more!
Schedule:
12:00pm - 12:50pm Registration & Networking
1:00pm - 1:40pm PANEL 1
Kalilah Wright - MESS IN A BOTTLE
Monika Anush - LEZAZZU.SHOP
Charis Alexander - LAYD
Staci Sherri - STACI SHERRI INC
1:45pm - 2:10pm VIP QA & BRUNCH
1:50pm - 2:20pm FIRESIDE CHAT
Vanessa Siverls
2:30pm - 3:10pm PANEL 2 
Samantha Smikle - NRODA EYEWEAR 
Brigitte Leads - BOND AND LEAD
Suzanne Stephenson - ORNATE REVERIE
Jamela Acheampong - KAHMUNE 

Clara Williams - SHOP OASIS
3:15pm - 3:35pm VIP QA & BRUNCH

3:45pm - 4:45pm 
FIRESIDE CHAT
LaKeisha Rush -THE FASHION SHERLOCK

Dawn Holloway - DH STYLE
Mikaela Pabon  - VETU DE JOY
5:15pm - 7:30pm
MARKETPLACE & MIXER
Meet Our Speakers: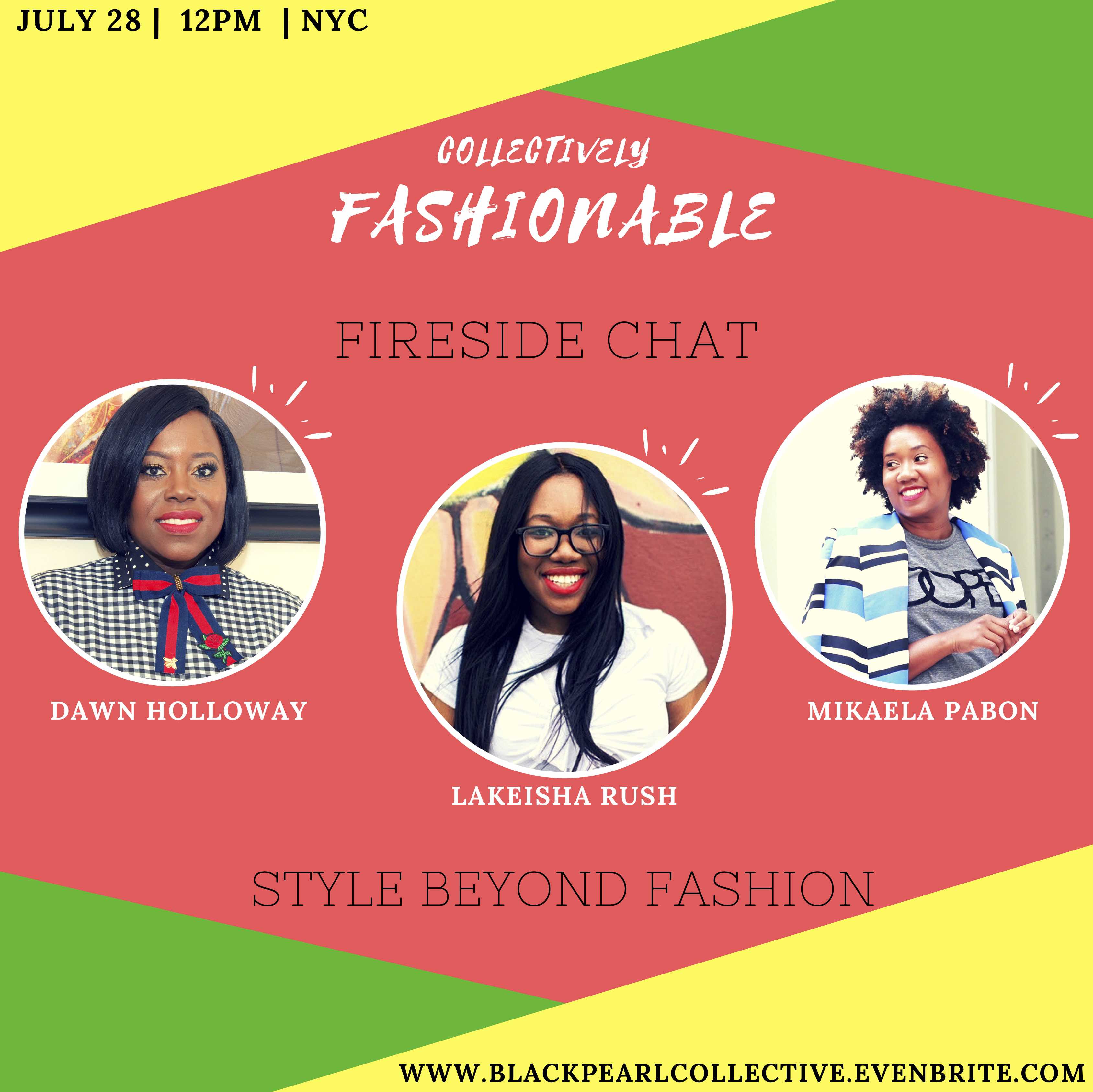 Kalilah Wright was born in Jamaica W.I., migrated to the United States at the tender age of 4 and was raised in Brooklyn, NY. She is the Founder and CEO of expressive brand Mess in a Bottle. As an accomplished designer and trained architect, she used her Masters degree from Morgan State University and Bachelors of Arts from Penn State University to establish the brand in January 2016 in Baltimore, Maryland. Mess in a Bottle allows you to put messages on t-shirts and are packaged in reusable bottles. The Mess in a Bottle brand was established to evoke change, question Kalilah's audience and allow individuals wearing their messages to be vocal without saying anything at all.
Monika Anush is the founder and CEO of LeZazzu.shop, a first-of-its-kind online platform showcasing emerging Asian contemporary fashion. Anush personally curates' styles for LeZazzu.shop drawing from traditional Indian and Far Eastern cultures, as well as Western influences to create entirely new fashion categories. Mumbai-raised and New York-based Anush, spent 17 years becoming a successful executive in healthcare in NYC. But when her innate need to make a difference in the world was not being satisfied, she turned her passion for design and whimsical personal taste into a full-time pursuit and founded LeZazzu.shop. Her mission with the company is to bring a movement to fashion and expand everybody's mindset, everybody's fashion knowledge - in a way that connects fashion to philanthropy.
Charis Alexander is a multidisciplinary designer and the founder of Layd - a fashion forward, function centric headwear and lifestyle company which designs and creates products that protect and promote healthy hair. A Parsons graduate, she has extensive experience elevating various brands (including cult favorites Assembly New York and Trademark), and continues to use her refined design sensibility in multifaceted ways. An avid learner and innovator, Charis is passionate about solving problems that impact our daily lives.
Staci Sherri has used the world of fashion design as wings to propel her through the beautiful institution of life. Born in Maryland, she developed her aesthetic on fashion and beauty at an early age. Equipped with an unparalleled creative flair, Staci matriculated at the International Academy of Design and Technology in Tampa, FL, earning her Bachelor's of Science and Fine Arts degree. After graduating, Staci was sure that she was ready to take a bite out of the Big Apple. She dove right in, preparing to become an independent fashion designer. As a first step towards this goal, Sherri impressed design teams as an intern at Beckerman and RocaWear. Later, she continued to strengthen her design expertise and expand her knowledge of the industry while working with Beyoncé and Tina Knowles. With all of the wonderful growth Ms. Sherri has experienced as a designer, she continues to flutter, magically, through the world of design, beauty and motivational speaking. 
Samantha Smikle his a native New Yorker from the Bronx who has been recognized for her innovative, imaginative designs. As a designer she is blazing the trail in the eyewear industry for adorned sunglasses with her line, Nroda. Through her career in the magazine and jewelry industry, Samantha has built relationships and credibility in fashion writing, production management and product development. Brands like Fader, Essence and InStyle Magazine, Alexis Bittar and Loehmann's have trusted Samantha's take on style and design. Since the official launch of Nroda in 2012, Samantha conceptualizes and designs her bold eyewear line empowering men and women globally to kick their style up a notch and walk powerfully in knowing that they look their best. Naturally inclined to advise and share her wisdom for how to strategically create the life of your dreams, Samantha has been invited to speak at high schools in NYC and Boston as well as the Fashion Institute of Technology and NYU. Samantha created the site Adorn Your Life (Samanthasmikle.com) as a platform that serves to guide and motivate men and women from all walks of life to letting their light shine brightly! 
Brigitte Leads is a designer, inventor, and author. Brigitte's first job was writing code for "the next big thing" -  text messaging for Motorola. Unphased by unbeaten paths Brigitte's career journey started with undergraduate degree in software engineering and  the success of being the only woman of color in her graduating class at the University of Toronto. Through an MBA from the University of Liverpool, United Kingdom, she received acknowledgement for her research publication (2011) that predicted the future ten years of retail and e-tail customer experience. Brigitte is now an accomplished holder of 7 U.S. patents and an advisor to female own start-ups. Brigitte's Bond and Lead was launch March 30, 2018. Inspired by art, technology and dismantled social boundaries, the Bond and Lead brand was born with the idea that fashion doesn't have to be shallow. Fashion with Function, Bond and Lead recognizes that those who wear the  brand,are seeking adaptive apparel and accessories, to shift away from antiquated fashion constructs and instead complement our lives. 
Suzanne Stephenson believes that beauty gives freedom to the soul, intrigue to the mind and pleasure to the senses. She uses that fluid inspiration to design transformative fashion accessories, which give the people who wear them the versatility to create their own styles and ease their lifestyles, while wearing them on various situations. Stephenson's crafts are manufactured by hand-selected artisans in Indonesia. She sources leather, vegan leathers and ikat (traditional handwoven fabric) for her accessories and in 2017 expanded to include petwear and accessories. Suzanne enjoys dance and art, hiking in nature, meditation and spending time with family and friends. She lives in Williamsburg with her husband Gavin and muse pug-diva, Jello. 
Jamela Acheampong was born in the US to Ghanaian parents, Jamela spent the majority of her life overseas in the Middle East. It is this international experience that Jamela cites as the reason she is so passionate about diversity and inclusion. Jamela founded Kahmune, a luxury women's footwear line designed in 10 skin tone hues in order to provide all women with a true nude option, after growing frustrated with the lack of options for her dark complexion. She has since set out to ensure that it is an issue women of colour no longer have to face when searching for true skin-toned footwear. With a background in Accounting and having recently obtained a Masters Degree in Finance in 2016, Jamela is a great example of how passion can trump experience. A self-proclaimed fashion lover, she has no formal background in shoe design but claims it is the desire to fill a much needed gap in the market as her driving force. She hopes that Kahmune will help drive some much needed change in the fashion industry. 
Clara Williams is a fashion industry veteran with skills and experience in branding, product and small business development, and international relationships, as well as, established business relationships abroad. She has been recognized for her style eye and passion for travel from Essence to smaller blogs and Instagram accounts over the years. Clara's expertise in handbag design and production is the result of over 6 years at Coach in Women's handbags and a year with Vince Camuto. She has travelled to several African countries, many of them multiple times and speaks conversational Swahili and Spanish. Clara is based in NYC. She graduated from Georgetown University with a Bachelor of Science in Foreign Service and an African Studies Certificate, and holds a Masters Degree from the Fashion Institute of Technology.
Dawn Holloway is a published fashion and personal stylist and fashion contributor under the name DH Style. She is also the Editor In Chief of DH Style.info. Dawn also contributes as the fashion editor to the online media company www.redcarpetshelley.com about all things fashion! Dawn has also launched a series of "Fashion Tip Friday" videos on her You Tube channel, DH Style - Fashion Stylist.  She also has a presence at New York Fashion Week each season where she covers the fashion shows for her blog.  Fashion has been her passion since she was a child. She describes her style as funky, edgy, classy, and chic. She has an extensive background within the fashion industry at companies such as Emanuel Ungaro, Nine West Accessories, and Redcats USA (PPR Group). She has also freelanced at prestigious companies such as,Louis Vuitton, Henri Bendel and Kenneth Cole.  While working for these companies she has acquired knowledge and experience in the fields of merchandising, product development and fashion styling.  Dawn's styling has also been published in the following magazines; Elegant, Rise, Stylezine, Fashion in the Fast Lane and Flawless.
Lakeisha Rush is a retail industry professional with a extensive background in fashion and eCommerce.  She is also the founder and digital editor for The Fashion Sherlock, a lifestyle and fashion blog based in New York City. Her brand is geared towards empowering and inspiring women ages 25-50 to live fearlessly, be authentic and showcase their personal style using fashion throughout their everyday life, with any price tag. 
#thingstodoinnewyork #fashion
When & Where

Galvanize
303 Spring Street
New York, New York 10013


Saturday, July 28, 2018 from 12:00 PM to 7:00 PM (EDT)
Add to my calendar
Organizer
Click here to subscribe to our text messages.
Pearl Market is a roving food, fashion, beauty, and homestyle pop-up market that travels seasonally to unique venues in the vibrant borough of Brooklyn, New York. Our mission is to make our pop-ups a rewarding experience for our vendors and shoppers.