Collective Soul Rejuvenation is a commitment to applying practical, everyday self-care regimens that will motivate and empower women and men
About this event
You are invited to join Collective Soul Rejuvenation for Self Care Monthly Meet up!
Collective Soul Rejuvenation is a commitment to applying practical, everyday self-care regimens that will motivate and empower women and men to make themselves their first concern.
This is open to anyone who is ready to put themselves first, with understanding that it's a must to give yourself love, care, healing and support before you can give and share with others.
Our monthly meetups will include meditations, breathwork, self care tips and resources and wellness activities that focus on living as a whole with mindful practices, affirmations, clean eating, journaling, manifesting, organization and more.
Collective Soul Rejuvenation is a great opportunity to meet and bond with other women and men who are committed to self care postive breakthroughs and life transformations. you will recieve encouragment as well as guidance that will enhance or help your daily practice.
I welcome you into a sacred space that honors vulneralbility and that will also provide preparation for your week ahead.
It's time to show up and give yourself the love you so deserve, the necessary and invaluable me time that feeds the Mind, Body & Soul.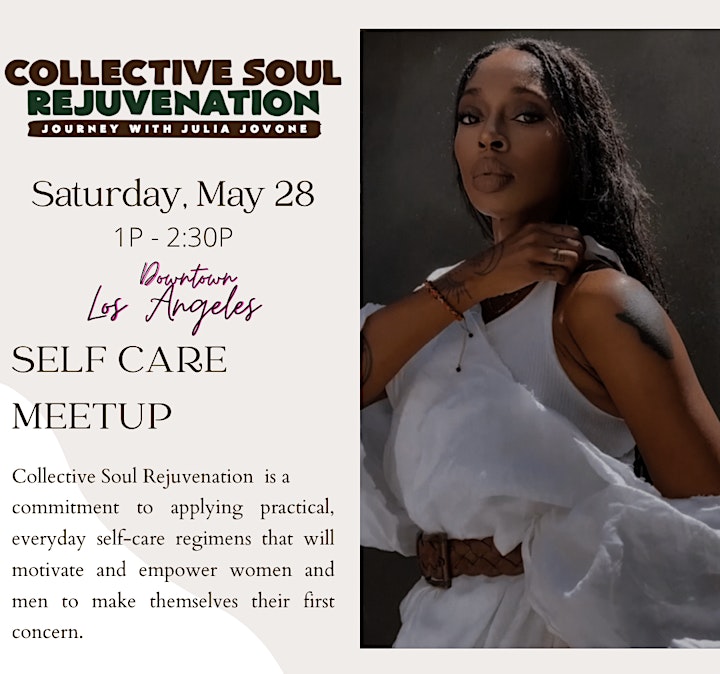 About Julia Jovone:
Intuitive Reiki Master, Sacred Shaman Priestess and Spiritual Scientist Julia Jovone is a modern spiritual woman, Julia, like many women wear many hats. "It is very important to teach other women and men the importance of self-care, healing and getting to know your higher self," according to Jovone. She represents an underrepresented number of black women pioneering the practice of healing across the globe. Her personal mission is to continue to educate and empower woman and men. As a Reiki Master/ Teacher, she empowers upcoming practitioners by teaching Reiki, Levels l-lll. Julia teaches that as humans, we must take care of the inside of our bodies in order for the outside to glow. Working with her clients to create a new mind state forming new habits and integrate stronger beliefs that are perfectly designed to take you where we want to be.
General Information
Date: Saturday, May 28, 2022
Time: Arrival Window is between 12:30P-1:00P
Location: Downtown Los Angeles. The address will be emailed upon purchase of ticket. This meetup will be held indoors.
We will start promptly at 1:00PM please give yourself enough time to arrive and get settled into space.
There is street parking as well as paid parking lots availble.
This meetup will run for 1 hour and 30 minutes.
What to bring:
Please bring Journal/Notebook Pen/Pencil for journal prompts amd notes. as well as a bottle of water.
Looking forward to seeing you all!