Collective Responsibility in Education - Chancellor Carranza & Dr. Emdin

Tuesday, April 16, 2019 from 6:00 PM to 9:30 PM (EDT)
Event Details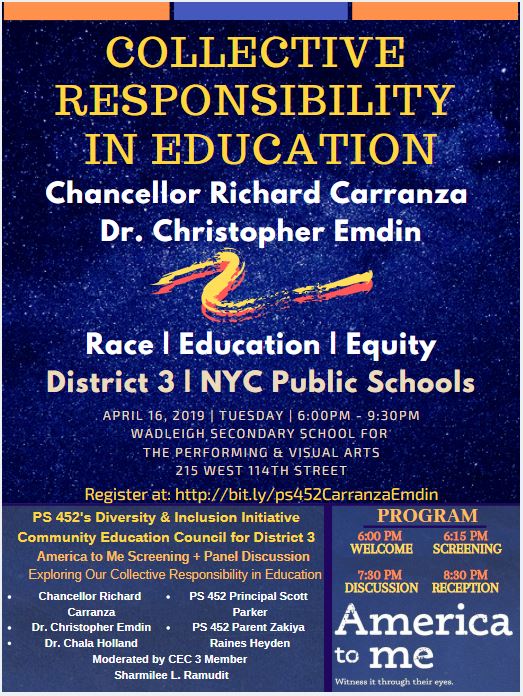 ---
Collective Responsibility in Education
Tuesday, April 16th from 6:00 pm - 9:30 pm at
Wadleigh Secondary School for the Performing and Visual Arts with
Chancellor Richard Carranza & Dr. Christopher Emdin
---
Join us for a discussion on race, equity, and education in District 3 and New York City Public Schools prompted by a critical analysis of the documentary series America to Me.  
PS 452's Diversity & Inclusion Initiative, in partnership with the Community Education Council for District 3, will use the documentary series America to Me to prompt a discussion about race, education, and equity with a group of panelists that includes:

Chancellor Richard Carranza, responsible for NYC's DOE, the largest public school system in the US;
Dr. Christopher Emdin, noted Teacher's College Scholar on transformative pedagogical approaches in the classroom;
Dr. Chala Holland, America to Me series participant and 2018 recipient of the Courageous Conversation Principal Leadership Award;
PS 452 Principal Scott Parker, locally celebrated principal for his leadership and long-time equity practitioner;
PS 452 Parent Zakiya Raines-Heyden, committed parent well-versed in educational disparities; 
CEC 3 Member Sharmilee L. Ramudit, moderator of the discussion and parent-scholar committed to engaging in collaborative equity discourse.
The panelists will explore parallels between the film series, District 3, and NYC's overall educational landscape.  Lisa Zimble, Impact Producer of Participant Media's America to Me: Real Talk campaign, will be there to tell us about the America to Me movement that is impacting schools and districts across the country.
No matter your role, be it educator, administrator, staff, parent or student, we have a Collective Responsibility to ensure high quality instruction for all students, regardless of race, (socio-economic) class, ethnicity, or any other attribute.  There will be opportunity to pose questions, reflect on our own individual contributions, and identify how we can expand our efforts for systemic positive change.
---
Please reach out to ps452diversity.initiative@gmail.com for more information, to make suggestions, or just share your thoughts!
---


When & Where

Wadleigh Secondary School for the Performing & Visual Arts
215 West 114th Street
New York, NY 10026


Tuesday, April 16, 2019 from 6:00 PM to 9:30 PM (EDT)
Add to my calendar
Organizer
The Diversity & Inclusion Initiative at PS 452 believes it is vitally important that we embrace and make space for the diverse perspectives, experiences, abilities, and backgrounds of our PS 452 community - our vibrant and caring interwoven family of students, teachers, parents & staff.  When we embrace and make space for diversity, we naturally promote inclusion, understanding, and empathy of each other's lived experiences and alternative perspectives.  This allows us to better serve the needs of our students, support our families, assist the teachers who support our students, and collaborate with the administration who orchestrates the implementation of programs that helps us all flourish and thrive together.  We look forward to welcoming both familiar and new faces at our events!