Collection & Cocktails

Wednesday, September 7, 2011 from 5:30 PM to 8:30 PM (CDT)
Event Details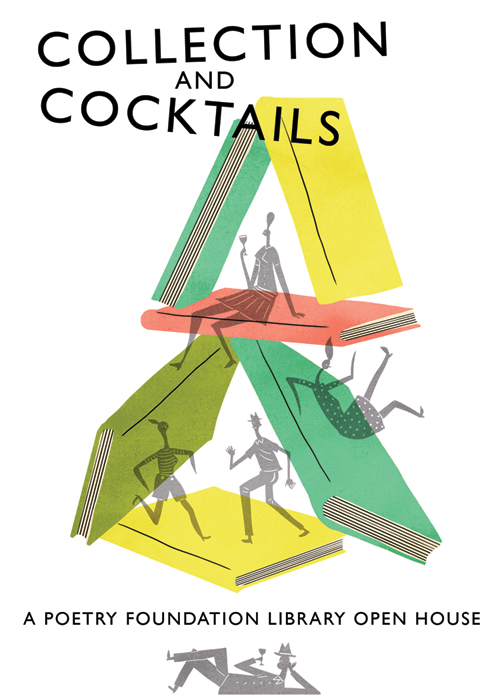 COLLECTION AND COCKTAILS

A Poetry Foundation Library Open House
The Poetry Foundation hosts an open house to celebrate the expanded hours and programs of its library. Festivities include poetry fortune telling, poetry recording sessions, a scavenger hunt, and readings of favorite poems from the library collection by local poets:
Phil Jenks
Jennifer Karmin
Quraysh Lansana
Dolly Lemke
Anthony Madrid
Mike Puican
Kathleen Rooney
Robbie Telfer

Wine and light refreshments will also be served. Attendees will be admitted on a first-come, first-served basis. Tickets not required for entrance; registering does not guarantee entrance. 

The new Poetry Foundation Library houses the organization's 30,000-volume colletion, with books dating back to 1916. The non-circulating collection is now open to the public.

The first floor of the Poetry Foundation library houses single author volumes of poetry as well as the children's area, which is filled with more than 3,000 volumes of poetry books written for young people. The second floor contains anthologies and prose, including criticism, literary history, and biography.
The Poetry Foundation Library extends its hours this fall and expands its children's programming. The library, now open to the general public on Tuesdays and Thursdays from 11 a.m. until 4 p.m., will also be open Fridays from 11 a.m. to 4 p.m. as of September 9. Beginning September 14, the library will be open only for young patrons and their guardians on Wednesdays from 10 a.m. to 5 p.m., when librarians will be on hand to help young people with poetry-related homework and projects. Also on Wednesdays, and beginning September 21, the library will host Poemtime, an event introducing children five and under to poetry though fun, interactive games.
For information about other Poetry Foundation events, please visit www.poetryfoundation.org/events.
When & Where

Poetry Foundation
61 W. Superior Street
(Dearborn & Superior)
Chicago, IL 60611


Wednesday, September 7, 2011 from 5:30 PM to 8:30 PM (CDT)
Add to my calendar
Organizer
Poetry Foundation
The Poetry Foundation, publisher of Poetry magazine, is an independent literary organization committed to a vigorous presence for poetry in our culture. It exists to discover and celebrate the best poetry and to place it before the largest possible audience. The Poetry Foundation seeks to be a leader in shaping a receptive climate for poetry by developing new audiences, creating new avenues for delivery, and encouraging new kinds of poetry through innovative partnerships, prizes, and programs. Opened to the public in June 2011, the Poetry Foundation building in Chicago provides new space for the Foundation's extensive roster of public programs and events. It also houses a public garden, a library, and an exhibition gallery, as well as the offices of the Poetry Foundation and Poetry magazine. For more information, please visit www.poetryfoundation.org.