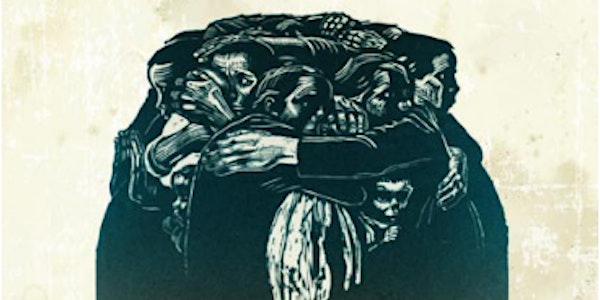 Collateral Damage: Women Write About War (Attend virtually or in-person)
An animation of the wartime experiences of women as military mothers, combatants, supporters, war resisters, and victims.
By Georgetown University Veterans Office
Date and time
Friday, November 12, 2021 · 3:30 - 5pm EST
Location
Copley Formal Lounge 3700 O Street Northwest Washington, DC 20007
About this event
From Homer to Tim O'Brien, war literature remains largely the domain of male writers, and traditional narratives imply that the burdens of war are carried by men. But women and children disproportionately suffer the consequences of conflict: famine, disease, sexual abuse, and emotional trauma caused by loss of loved ones, property, and means of subsistence.
Collateral Damage tells the stories of those who struggle on the margins of armed conflict or who attempt to rebuild their lives after a war. Bringing together the writings of female authors from across the world, this collection animates the wartime experiences of women as military mothers, combatants, supporters, war resisters, and victims. Their stories stretch from Rwanda to El Salvador, Romania to Sri Lanka, Chile to Iraq. Spanning fiction, poetry, drama, essay, memoir, and reportage, the selections are contextualized by brief author commentaries.
The first collection to embrace so wide a range of contemporary authors from such diverse backgrounds, Collateral Damage seeks to validate and shine a light on the experiences of women by revealing the consequences of war endured by millions whose voices are rarely heard.
The event will feature guest lecturers including:
A social gathering will follow the event where complimentary appetizers and beer/wine will be served.
Special Thanks!
A note of thanks to our sponsors, AWL Strategies, Georgetown University's Women Center, and Georgetown University Library, who made this event possible through their generosity and commitment to elevating the voices of women everywhere.

How to attend:
If attending in person
If you are a Georgetown student, Faculty, or staff member, you must comply with the University's COVID-19 policies.
Visitors to Georgetown University must be fully vaccinated against COVID-19 or attest to having a medical or religious exemption. Visitors will need to follow the University's protocol for verifying their vaccination status (available here) before registering and complete a health attestation on the morning of their visit to attest that they are symptom-free.
You must be 21 years or older to consume alcohol You will be asked to provide proof of legal age via a government-issued ID.
If attending virtually
You will receive a Zoom link to the session in the confirmation email after registering.
Directions and Parking Guidance: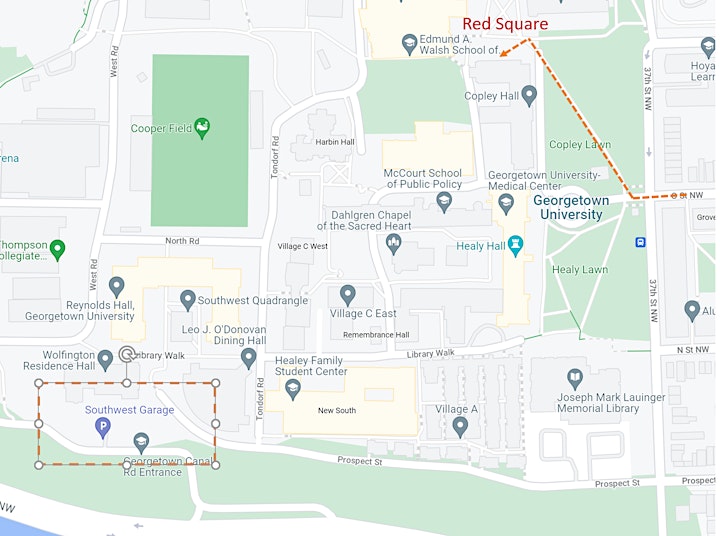 Rideshare, Capital Bikeshare, Walking Guidance:
If you are arriving via rideshare, or other means – please use either "Georgetown University" or 3700 O St. NW to arrive at our front Gates and 37th and O (beginning of dotted line in the top right of image). Also, for those arriving via Capital Bikeshare, there is a station at the entrance of the university at 37th and O.
Once you enter through the front gates, you can follow the diagonal pathway to Red Square. From there, you will see an entrance on the northside of the building.
Visitor Parking:
Campus visitors can enter the garage from Canal Road and pull a ticket from the gate dispenser to enter the garage. Upon exiting, visitors can pay by credit card at the exit gate or bring the ticket to the Pay Station on the ground floor lobby of Kennedy Hall to pay with cash or credit card.
For those driving – please use the address 3611 Canal Road NW as the address when mapping directions using GPS.
About the organizer
Georgetown University's Veterans Office serves military connected students as they apply to, attend and advance beyond Georgetown. The Veterans Office connects military students with the resources they need to successfully transition from military service to classroom to career. Our office serves as a liaison and advisor to ensure prospective and current military students receive accurate and comprehensive information around admissions, finances, academic support, career networking, and support services.