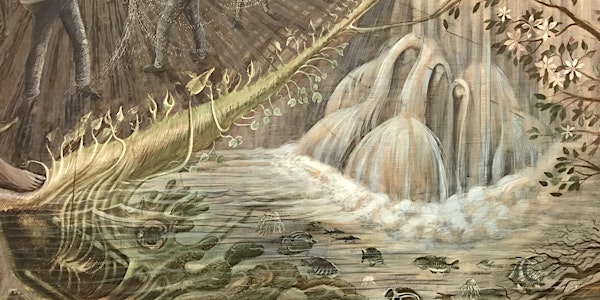 Collapse or Cohabitation: Animals, Industrial Ecologies and the Future of Virtual Reality | An Artist Talk with Mari Bastashevski & Bogna M. Konior
By Data & Society Research Institute
Date and time
Thursday, May 24, 2018 · 3 - 4:30pm EDT
Location
Data & Society Research Institute 36 West 20th Street New York, NY 10011
Description
Collapse or Cohabitation: Animals, Industrial Ecologies and the Future of Virtual Reality
Throughout the history of technology, the role of animals has been relegated to that of a resource, a tool, a weapon, and a non-subject in the cultural vision of a militarised futurism or ecological collapse. In this talk, we focus on existing, speculative, and historical relations between virtual reality and animals to pose questions about cultural, environmental and political violence.
Many of the technologies we use daily originated as weapons to then become a lifestyle option and eventually a necessary infrastructure of political participation and everyday life. Today, military and corporate institutions are generously investing into virtual reality research that relies on the existing animal models as the norm for scientific inquiry. Despite its potential, current applications of virtual reality only extend the existing logic: animals are either tools for accelerating state and corporate agenda or props for the culture of torture and shock value.
In two sections, drawing on existing technologies and the visual archive, this talk will flesh out the cyclical tropes between animal representations in visual culture and the military-industrial complex, taking the history of animals in manmade technology as a point of entry into the current era of eco-industrial collapse in necro-capitalism. Then, focusing on auxiliary examples of animal-centric narratives, it will conclude with a speculation, envisioning the possibility of alternative representations and technologies, a paradigm for hacking the environmental and industrial crisis through an intersection, not subjugation, of animality and virtual reality.
Mari Bastashevski is an artist and a Data and Society fellow. She is currently involved in a number of collaborative projects and divides her time between inventing technologies that can make algorithms stumble and researching the history of post-natural animals. She has exhibited with Bonnier Konsthall, Musée de l'Elysée, HKW Berlin, and Art Souterrain, and contributed to Le Monde, The New York Times, and Courrier International amongst others.
Bogna M. Konior is the Media and Technology editor at the Hong Kong Review of Books and the director of the Institute for Critical Animal Studies, Asia. She holds a Research Masters in Media Studies, a PhD in Cultural Analysis and was recently a visiting researcher in Media and Culture at the ICON Center for the Humanities at the University of Utrecht. Her recent work in media cultures and the Anthropocene is published in 'Transformations: Journal of Media and Culture' and forthcoming in 'PostMemes' from Punctum Press. Her curatorial and collaborative work exploring theory in the Anthropocene has been exhibited internationally.
Image: "The Web of Life" John Biggers
About the organizer
Data  & Society is a research institute focused on the social and cultural issues arising from data-centric technological development.