Description
This didactic, experiential workshop for grief professionals introduces collage as a transformative art therapy technique, effective in the treatment of traumatic loss. This multi-media approach highlights art therapy based theory and practices with grief/bereavement theories of Dr. Robert Neimeyer: Meaning Reconstruction; Dr. William Worden: Task Model of Bereavement; and Dr. Edward Rynearson: Restorative Retelling.
Case studies include collage images created by an art therapist in response to the suicide of her daughter as well as images created by the bereaved. The creative process and product provides learners with opportunities to explore two/three dimensional collage making as a way to piece together personal and professional experiences of loss.
Learning Objectives
At conclusion of the workshop, participants will be able to:

Identify three major Grief and Bereavement Theories as applied to the Expressive Arts. (Neimeyer: Meaning Reconstruction; Worden: Task Model of Bereavement; and Rynearson: Restorative Retelling Model)
Understand the collage process and product through a Meaning Reconstruction focus on the event story and back story narrative.
Understand how three questions support a creative process that is grounded in Rynearson's: Restorative Retelling. (How did it happen, Who am I, and Why did it happen)
Effectively describe three creative interventions that support grief work, anchored in Neimeyer's framework of bracing, pacing and facing.
Understand the essential elements of Art Therapy as an effective treatment modality for those suffering traumatic loss.
---
PRESENTER
Sharon Strouse, MA, ATR-BC, LCPAT, board-certified art therapist and licensed clinical professional art therapist with 30 years of clinical experience.
---
PROGRAM AND CONTINUING EDUCATION DETAILS
Seating is limited. Registration fee is $85 and includes continuing education fee and lunch. Continuing education (5 hours) is available from a variety of boards through the TAPS Institute for Hope and Healing®.
Refund Policy: Cancellations must be received via email to institute@taps.org and are eligible for a refund according to the terms below. Substitutions are allowed. Refunds cannot be credited towards future Institute events or programs.
Before October 14: 100% refund

October 14-31: 50% refund

November 1-7: 25% refund

After November 7 and no-shows: no refund
Continuing education: Instructions for obtaining CEs will be provided at the event. Click here for board approvals.
---
ABOUT THE PRESENTER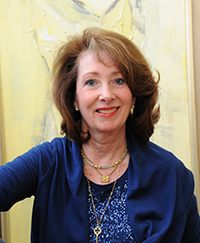 Sharon Strouse, MA, ATR-BC, LCPAT, is a board-certified art therapist and licensed clinical professional art therapist with 30 years of clinical experience with adults. A year after her 17-year old daughter Kristin ended her own life; Sharon immersed herself in a creative process involving collage which became the foundation for her book, Artful Grief: A Diary of Healing. Additional published works can be found in Techniques of Grief Therapy: Creative Practices for Counseling the Bereaved, Grief and the Expressive Arts: Practices for Creating Meaning,Exploring Ethical Issues in Art Therapy and Prescriptive Memory in Grief and Loss: The Art of Dreamscaping. She is a workshop presenter for The Tragedy Assistance Program for Survivors 2008-2018, The American Foundation for Suicide Prevention, The Association for Death Education and Counseling, The Compassionate Friends, the American Art Therapy Association and the Expressive Therapies Summit. She is a board member on the Johns Hopkins Medicine: Department of Psychiatry and Behavioral Sciences. Sharon is co-founder of The Kristin Rita Strouse Foundation (www.krsf.com) a non-profit dedicated to supporting programs that increase awareness of Mental Health through education and the arts. In addition to national workshops, she leads weekly art therapy and meditation circles for survivors of loss.
---
What are my transportation/parking options?
Public parking is available at the 3033 Wilson Boulevard garage for $10 ($7 if in by 9 am) and there are several public garages wihtin walking distance. Street parking is available (most with 2-hour time limit) and the Clarendon metro station (Orange & Silver Lines) is across the street.
Can I bring a friend or colleague with me?
We'd love you to, but please ask them to register due to the registration fee and limited seating.
How can I contact the organizer with questions?
Email Institute@taps.org or call 800-959-8277.
Presented by Boeing