Description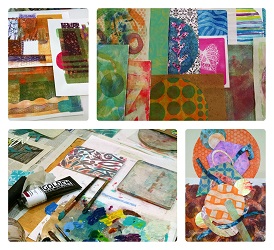 COLLAGE EXPLORATIONS

with Artist Christine Sauer
When: Friday, June 16 AND Saturday, June 17, 9:45am - 4pm
Please join me for this TWO DAY mixed media collage workshop at David Art in Metairie. We'll explore collage art using monoprints printed on Gelli plates with Golden Open acrylics. Open acrylics are a slow drying paint that allow for a longer "open" or working time and are perfect for this process. Printing on Gelli Plates is versatile, exciting and addicting! Participants will discover inventive ways to use stencils, stamps, masks and texture tools to create layered, unexpected combinations. Creating faux chine colle collages will also be part of the mix. Open acrylics are a slow drying paint that allow for a longer "open" or working time. This process lends itself to a variety of styles of art making.
Some of the prints made will be used as collage materials that will be cut and/or torn to create a collage on a choice of sizes, 12x16" - 18 x24" cradled panel. Design strategies for creating the collage, as well as a variety of ways to adhere and layer materials will be covered with demos and examples. Other prints can be used as artworks on their own or as material for other projects. You'll leave with several finished or in-process pieces, extra collage materials for future use and lots of inspiration for further exploration. Please bring a notebook for note taking if desired. After the workshop, a downloadable file will be emailed to you with an outline of the workshop and workshop photos. MATERIALS LIST David Art Center will give you 20% off on all materials purchased for the workshop. Show them your registration at checkout.
Cost: $185. Includes additional paints and mediums, specialty printing papers and fabric, brushes,brayers, texture tools and miscellaneous supplies such as handi wipes, paper towels, etc..
All skill levels welcome!
Lunch break is a short ½ hour so please bring a bag lunch! Please bring snacks and beverages for the day as well.
CLASS POLICIES
Full payment is necessary to secure your spot.
No unpaid guests allowed.
You'll receive an email from me a couple of days before the workshop with reminders, updates, etc.
FAQs
What's the refund policy?
REFUND/ CANCELLATION POLICY
If you need to cancel, please note the following:
Full Refund for Cancellation given three weeks before the workshop by May 25 only. After that time no refund given but an alternate may be sent in your place. If I need to cancel for any reason such as an emergency or illness, a full refund will be given
Have questions? Please contact me csauerarts@yahoo.com .