Event Information
Refund policy
Contact the organizer to request a refund.
Eventbrite's fee is nonrefundable.
Advancing your child & family's mental, physical, and emotional health!
About this event
Collaborative Health Summit offers a first glance at professional collaboration. Professionals across advanced disciplines will be connected to discuss and offer the mindset, health tips, and focus that all providers need to integrate for optimal care and health for our children and families. Advancing psychological care to encompass the "whole" functional treatment of mind, body and soul. Additionally, providing parents, educators and providers access to resources that truly matter!
BACKGROUND
With over 15 years in practice. Dr. Lori Baudino prides herself in her ability to integrate health practices in order to serve her clientele and provide optimal care. By collaborating with professionals across disciplines, both providers and caretakers (parents, educators, family members) have the full understanding of the individual needs, health factors, risks and resources for care. Moving past labels, symptoms and one size fits all responses; a collaborative approach reveals the root of dis-ease and aides in generalization, maintenance and acceptance of life long health! We have an obligation to connect and work together to share our expertise and heal one another fully!
Dear Participants,
If you are a professional, a learner, a parent or educator this Summit is for you. Rather than returning again to another training within your field of expertise, this summit offers you a lens into the most prominent and specialized health areas for Whole child/person integrative health. The Summit provides an opportunity for professionals to collaborate across disciplines to learn more! The Summit provides parents and advocates with resources that will address the Whole child - mind, body, and soul. A one stop shop for learning, connection and growth!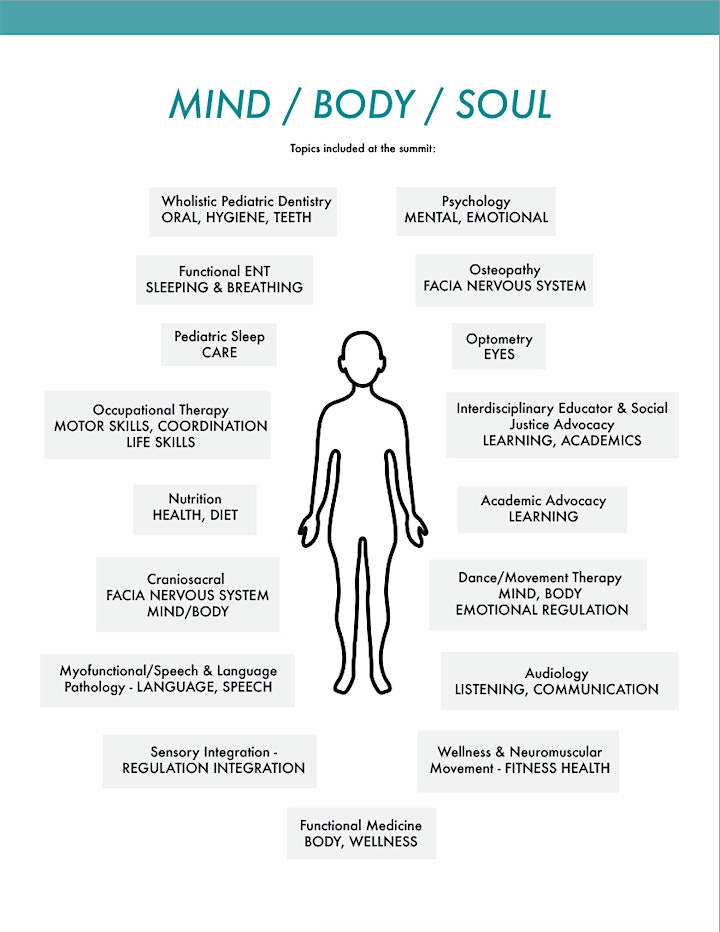 Inspire Your Peers and Show What's Possible
Let's face it, if you are a provider or parent your individual child is unique and your family needs are important. You deserve to learn about resources that look at the Whole Child/person for total care.
Or,
Are you an expert in your specific field but wanting to know more about the Whole picture of health? ... This Summit is your chance to see what's possible, and also an opportunity for you to learn about what your colleagues are doing across the community and what you need to know for your total family health!
What to Expect
Your presenters will be sharing presentations/workshops, interviews, mini lightning talks, and q&a panel discussions.
Who is this for?
You are...
Working in professional careers that offer services to your clientele and you benefit from cross referrals and multidisciplinary learning/growth/advocacy.
Parents and family members currently receiving services or looking for additional support throughout a child's life.
Able to participate across the globe and on multiple occasions.
Students and professionals seeking professional development, consultation, & connection
Educators wanting to understand an integrative approach to health and learning.
Location
Refund policy
Contact the organizer to request a refund.
Eventbrite's fee is nonrefundable.