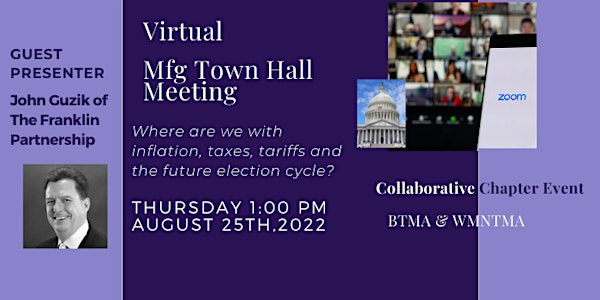 Collaborative BTMA & WMNTMA Virtual Mfg. Town Hall Meeting
A collaboration between Boston Tooling & Machining Association and Western MA National Tooling & Machining Association Chapters.
About this event
We invite our members to come together for a Virtual Mfg Town Hall with guest presenter John Guzik of The Franklin Partnership. John Guzik is a founding partner of the Franklin Partnership with over 20 years of Capitol Hill and campaign experience. Previously, John served as Chief of Staff for Ways and Means Chairman Dave Camp. He was the top legislative strategist working on tax, trade, health care, transportation and agriculture issues. John also works closely with the Senate Finance Committee on health care, tax, trade, and many other issues important to his clients.
John will be providing the latest update on the inflation, taxes, tariffs, the effects of global events and the future election cycle. After the presentation we will provide and question and answer session.
The Franklin Partnership, LLP, a bi-partisan government relations firm, provides comprehensive legislative affairs and public policy services on behalf of their clients before Congress, the Administration, relevant agencies and state and local governments.
The firm's diverse client base includes municipal governments, defense contractors, hospitals and medical research facilities, tribal governments, manufacturers, and trade associations, among others. As a result, our partners have focused expertise in numerous areas such as; tax, international trade, health care, defense, energy, federal funding via the appropriations and grants process, economic development, transportation, small businesses, tribal issues and many more.