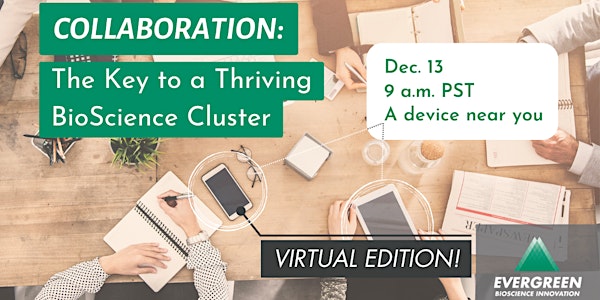 Collaboration: The Key to a Thriving BioScience Cluster - VIRTUAL Edition
Come together to design our path as a cluster and to amplify the voice of the customer.
About this event
You have been cordially invited to Evergreen BioScience Innovation Cluster's virtual edition of "Collaboration: The Key to a Thriving BioScience Cluster!"
We were fortunate to have such excellent, highly relevant, and informative presentations from industry experts during our in-person October 11 event.
Those who attended appreciated the presentations so much that they requested the ability to watch them again. Others who could not attend our in-person event requested a virtual option.
So, by popular demand, we offer you the opportunity to watch these presentations and enjoy a guided, live discussion around an agenda that centers on Evergreen Bio's pillars of developing a world-class cluster: Thriving Industry, Total Mountain Northwest Supply Chain, Global Entrepreneurship Hub, and 21st Century Talent.
Join us in building a modern innovation cluster supporting pharmaceutical and medical device discovery, development, and commercialization across the Northwest.
Schedule of Events:
9:00 a.m. - Event and WA Commerce ICAP program overview and EBIC Advisory Board introduction by Katrina Rogers
9:25 a.m. - Watch and discuss the recording of "21st Century Talent cGXP Talent Development" by James DeKloe of Solano College
10:10 a.m. - Watch and discuss the recording of "Medical Products Supply Chain Market Trends and Policy Impacts" by Amy Baudino of ThermoFisher
11:00 a.m. - Wrap up and optional virtual networking