Description
Collaboration Incubator
2-day Dragon Dreaming Action Learning.

A space to experiment with agile project planning and running projects truly collaborative, integrating a community supportive way of leadership, indigenous wisdom and systems thinking, perfect for today's conscious startups and other organizations that are wanting to transform and address imbalances in their ranks.

- January, 18-20 – San Francisco Bay, California, USA -


Capacity building for inclusive leadership, culture-building, intentional community development and operation.

The intention of this seminar is to strengthen leaders who want to contribute to purpose driven projects, organizations and communities.
The curriculum addresses Collaborative Governance and Project Planning, Community Building, as well as Mindfulness-, Shamanic- and Embodied-Practices.


WHY
Initiating and leading purpose driven projects around transforming business, society and self can be challenging. It requires leaders who can:
connect and stay focused with their own and their co-leaders vision.
navigate through chaos and develop trust in their co-leaders.
re-connect and stay centered in their own purpose.
The 2-day workshop is a space for learning and mutual support around the possibilities of collaborative leadership for purpose driven action.


HOW
During the 2 days we will practice the Presencing inspired quality of attention and communication, we will hear about an indigenious wisdom inspired way of doing projects and we will work on a collaborative mini-project together, applying the Dragon Dreaming Project Design framework. With the intention to support each other in our current life and work, we seek to integrate the competencies and creativity all individuals bring and are inviting a space to help seeding new projects or accelerating existing ones.


WHAT
You can expect:
#ActionLearning
#Tools
#Processes
#Leadership
#Communication
#NewCulturalParadigm
#Community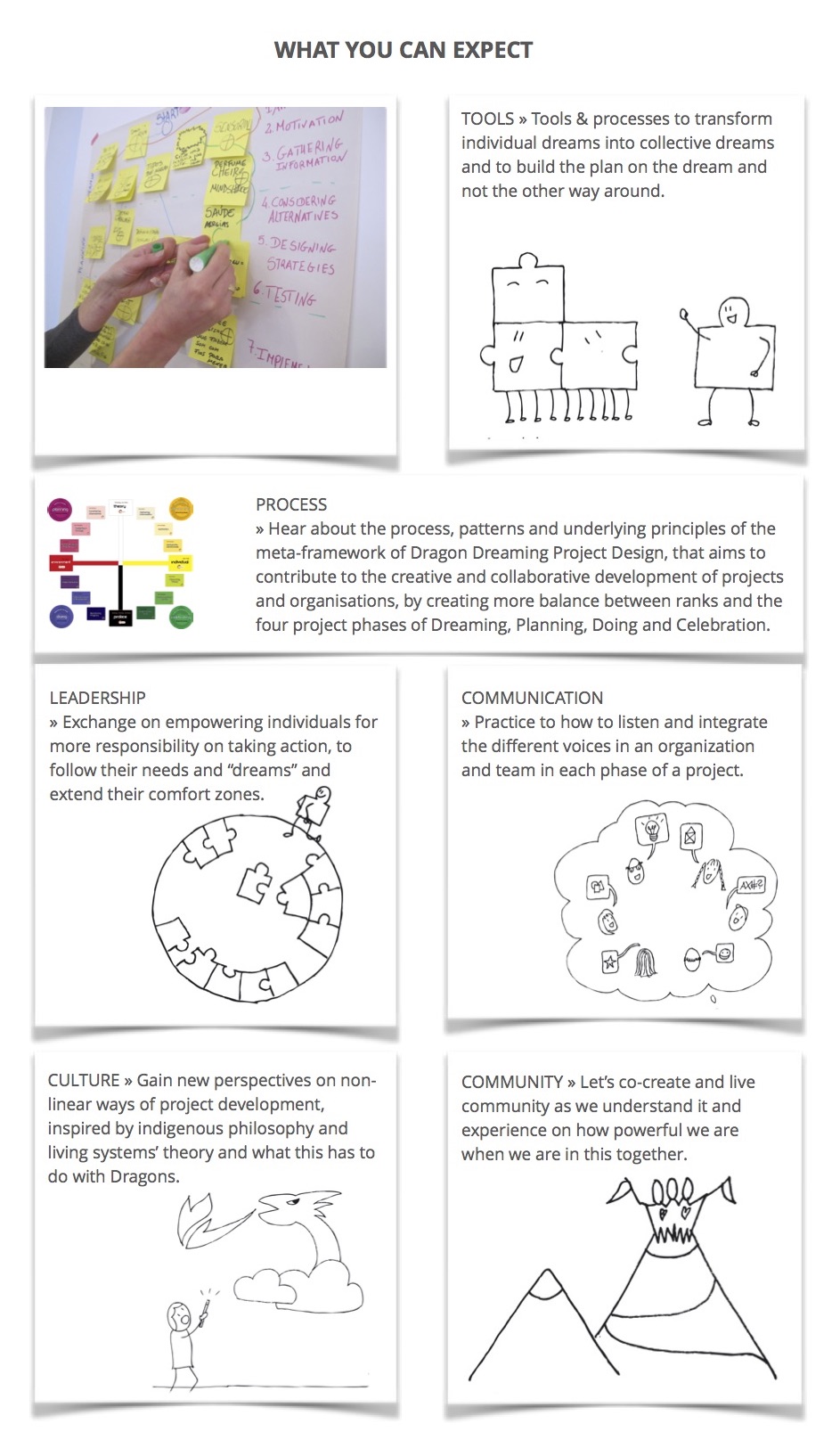 More about DRAGON DREAMING PROJECT DESIGN

PROGRAM JAN 18-20, 2018

DAY 1 - 16:30 -21:00 ARRIVAL, DINNER, INTRO
Check-in
Exploring individual Vision
Dinner
Intro into Dragon Dreaming Process

DAY 2 - 9:00 - 21:00 - PRACTICE & CELEBRATION
Group work on case study:
Dragon Dreaming Dreamcircle: Practice transforming individual dreams into collective ones
Objective Setting: Building your goals on the dream
Dinner & Project and Support Sharing

DAY 3 9:00 -13:00 - WAYS to ACTION, INTEGRATION
Input: Task planning with the Dragon Dreaming game board (Karrabirrdt)
Review & Harvesting
Check-Out

DAY 3 14:00-15:30 - GIFT ECONOMY*
Gift-Economy processes for workshop-funding,
*for those who choose this option.

PROJECTS FOR PRACTICE
We will be practicing on one or two projects, that can be real case studies from participants. Let us know if you like to offer your case.


PROJECT
We will be practicing the planning of a project with Dragon Dreaming on a project that is relevant to our group in the time we are together and possibly beyond.

FUNDING

You contribute to the venue and board 200 USD*, plus accommodation if necessary, plus the following course fee:
USD 440.- (USA not for profit, self-payers)
USD 1,190.- (USA for profit)

Alternatively you contribute to the venue and board 200 USD*, plus accommodation if necessary, and you join our Gift-Economy process after the end of the main workshop. In this process you learn to give as you feel, exploring the edge of your individual "comfort-zone" in an experimental process. Please send us your informal motivation letter if you like participate in this.*

*We ask for a deposit amounting the estimated costs of venue and board. To secure your registration send your deposit via paypal.me/CoIncubator.


WHEN & WHERE

In a studio loft directly by the water in Pt Richmond, San Francisco Bay
323 Western Drive, Richmond, 94801
2 Miles from Richmond Bart Station
Check pictures here
http://manuelabosch.de/wp-content/uploads/2017/12/PrRichmondVenue.pdf



REGISTRATION PROCESS
For registration please fill out the following form:
https://vanillaway.typeform.com/to/xwF82I

- Last date for registration is Jan 10th., the workshop is limited to 10 participants -

Recommended Prerequisites
This program is designed for individuals who:
+ Feel called to actively contribute to inner and outer transformation
+ Want to learn and experience self-organization principles
+ Have some experience in trainings/coaching/facilitation work
+ And/or experience in a leadership position in a purpose driven organization
+ Have a regular mindfulness or body-practice
+ Completion of an application form and a personal interview are part of our application process.
+ The workshop is limited to 10 people and we are aiming for a diverse group (background, origin, gender, etc.)
Contact manuela(at)vanillaway.net for further questions on registration and course content.


ABOUT DRAGON DREAMING

Read more about the emergence of this course and Dragon Dreaming
http://www.dragondreaming.org/?p=1185



ABOUT THE FACILITATOR

Manuela Bosch works as a facilitator, supervisor, trainer and process designer for collaborative and personal transformation as part of the Vanilla Way Change Agency Network the international Dragon Dreaming E.C.O.

With her work she is addressing healing, community building and project development equally. Her work is grounded in deep research on the relationship between self discovery and manifestation of projects for social change – shifting from ego to eco self. Thus she is integrating dance with business, shamanism with activism, and meditation with community building.

Manuela feels at home in the international world of creative-activism, digital nomads, eco-social start-ups, yoga communities and nature quests. After her business studies she worked in international advertising network-agencies as a consultant and project coordinator.

Feeling part of a global community of transformation activists and change-makers, she has been active in co-founding the Dragon Dreaming Empty Centered Organisation, focusing on brand and community building. She has been co-developing Thinkfarm Berlin, a self-governed co-working and community space hosting a community of social start-ups and change initiatives. She is connected to the Klein Hundorf Ecovillage project (Northern Germany) and the international change-maker movement around Theory U. She is initiator and co-founder of Vanilla Way, an international empty centered and self-governed Change Agency Network.

She has been supporting over 70 projects ranging from creative activism, education, media, tech and HR business, intentional communities, eco-villages, co-creative-spaces, traditional NGO's, social start-ups, healing projects, family business, agriculture, co-working and co-living projects and various more all purpose driven organisations since 2010 and she has trained hundreds of entrepreneurs and change-makers in authentic-brand workshops, Dragon Dreaming project design and more recently in nature-quest seminars. Facilitating the process of bringing together purpose and action.

www.vanillaway.net
www.manuelabosch.de

OUR PARTNERS

REINVENT THE WORLD (New York Region)

www.reinvent.world