Description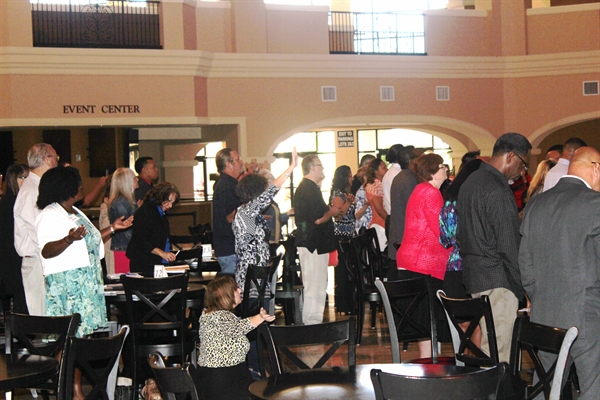 Collaborate: Pastors & Civic Leaders Gathering
Location: Church of the Sower, 6901 Tpc Dr #450, Orlando, FL 32822 (Click here for map)

Schedule:
(10:00am - Noon) - Main COLLABORATE meeting

(Noon-Approx. 1:30pm) - Optional Lunch & Fellowship at a local restaurant
(TBD)
Registration for this Gathering is free of charge. For those who join us for lunch this is a BYOL (Buy your own lunch :)
Focus: This is an opportunity to connect with other Kingdom minded believers from across Orlando & Central FL, be inspired by testimonies of what God is already doing, and prayerfully partner together for His glory in our region.

Registration for this Gathering is free of charge. For those who join us for lunch this is a BYOL (Buy your own lunch :)

OUR NATION IS AT A CROSSROADS
Purpose: Ministry leaders from the Central Florida area have begun COLLABORATING together. It is our desire to partner together to bring the Transforming Life of Jesus Christ into Every Community, Every Sphere of Influence, Every Ethnicity, Every Denomination and Every Generation Across Orlando/the state of Florida. We have various partnership initiatives that are unfolding in the arenas of prayer, evangelism and discipleship. We intend to continue to meet together, share hearts, and have an opportunity to seek the Lord for His next steps in the coming days.

Who is Invited: Pastors, business leaders, civic leaders, and those who have a heart to see Christ's Kingdom extended across Orlando & the state of Florida.

Online Pre-Registration Deadline: Tuesday, Dec. 12th

(Register early to ensure you will have a seat. Seating is limited. As long as registration is available on this site seats still remain.)