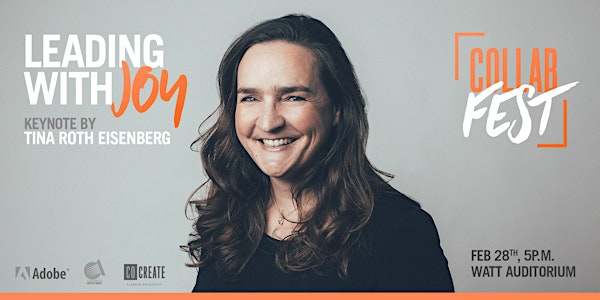 CollabFest Opening Keynote | "Leading with Joy" by Tina Roth Eisenberg
When and where
Location
Watt Family Innovation Center 405 S Palmetto Blvd Auditorium Clemson, SC 29634
Description
Collabfest presents "Leading with Joy," a keynote by renowned designer and CreativeMornings CEO Tina Roth Eisenberg
In the spirit of CollabFest, this inspiring keynote is all about developing, nurturing and participating in community with other creatives. Tina will share insights into her success and experience with launching several projects centered around collaboration and creative communities.
Tina Roth Eisenberg is a Swiss designer based in NYC. Over the past 13 years she's started numerous side projects that have organically turned into businesses – a global, monthly lecture series called CreativeMornings; a simple to-do app called TeuxDeux; a designer temporary tattoo brand called Tattly; and a collaborative co-working space called FRIENDS. Tina is often referred to as Swissmiss after her popular design blog which is also the name of her Twitter handle.

http://creativemornings.com
http://teuxdeux.com/
http://tattly.com
http://friendsworkhere.com
http://swiss-miss.com

This keynote is brought to you by Adobe and Creative Inquiry.