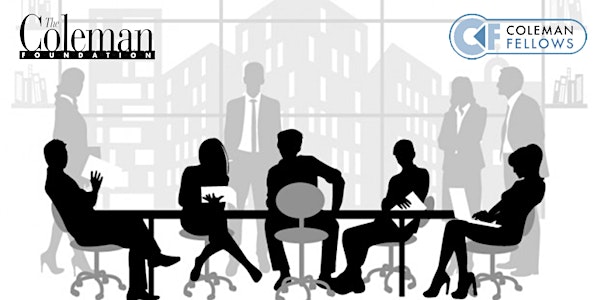 Coleman Faculty Fellows Mixer
When and where
Location
Room 749F, Downtown Campus Illinois Institute of Technology 565 West Adams Street Chicago, Illinois 60661
Description
The Coleman Fellows Program established by Coleman Foundation promotes entrepreneurship as a career option and field of study for individuals of all ages and strives to improve the relevance impact of entrepreneurship education programs.
In 1981, the Foundation established a series of Coleman Chairs and Professorships in Entrepreneurship at various colleges and universities. Two decades of seed and program grants followed to further promote and develop the field. The grantmaking focus spread from awareness to fostering experiential activity, that would allow nascent entrepreneurs the opportunity to practice and develop skills needed to succeed.
The Foundation has recently established a more focused impact framework for grantmaking in its entrepreneurship program area. The Entrepreneurship Education Impact Plan has curricular and co-curricular components. Within the curriculum, strategies aim to foster development of core skills and the promotion of entrepreneurship as interdisciplinary learning. The Plan also seeks to improve the quality and quantity of experiential activities across disciplines that develop applied knowledge and experiences in self-employment. Potential grantees should look to this Entrepreneurship Impact Plan for the type of strategies the Foundation is looking to fund. The Foundation has also been promoting the concept of a Pathway for entrepreneurship exploration and education.
The faculty cohort of Coleman Fellows Program at Illinois Institute of Technology invites all interested faculty and students to join their upcoming Faculty Fellows Mixer on March 29, from 3.30pm to 5.30pm at Room 749F, Downtown Campus.