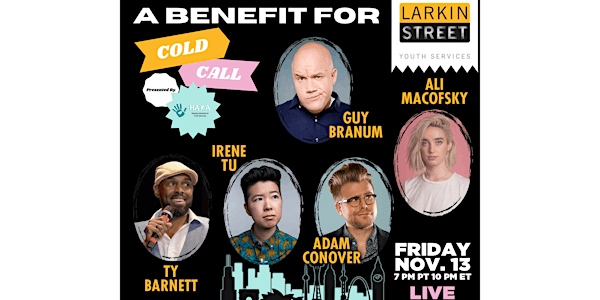 Cold Call: A Benefit Show for Larkin Street Youth Services
Nowhere Comedy Club is a full comedy club experience from the comfort of your home
Refund Policy
Contact the organizer to request a refund.
About this event
This event is at 7:00PM PT/10:00PM ET
The show will be approximately 75-90 minutes
This is a benefit show organized by HAYA, the UC Hastings Association for Youth Advocates. A portion of the proceeds will be going to Larkin Street Youth Services, San Francisco's largest nonprofit provider for young people experiencing homelessness.
Featuring Adam Conover, Guy Branum, Irene Tu, Ali Macofsky and Ty Barnett.
Adam Conover is a comedian and the creator, writer and star of the hit series ADAM RUINS EVERYTHING, an educational comedy that dispels common misconceptions and encourages the audience to think critically about the world around them. The New York Times calls it "one of history's most entertaining shows dedicated to the art of debunking" and refers to Adam as a "genial provocateur." On YouTube, his videos have amassed millions of views on topics ranging from engagement rings, to the pilgrims, homeownership, baby formula and solitary confinement. Conover recurs on the Netflix animated series BOJACK HORSEMAN and was a regular panelist on VH1's BEST WEEK EVER. A former writer and cast member for College Humor Originals, he also co-wrote and starred in the film festival darling THE EXQUISITE CORPSE PROJECT. In 2016, Adam embarked on a 15 city, sold-out live tour of Adam Ruins Everything Live, and he is currently touring his new hour-long one-man show, Mind Parasites. As a standup comedian, Adam continues to perform regularly in top comedy clubs and colleges across the country.
Guy Branum is the creator and host of truTV's Talk Show The Game Show, a hilarious mashup of two beloved television formats that pits comedians and celebrities against each other for the title of "Best Guest of the Night." His recently published book My Life As A Goddess is a collection of side-splitting and illuminating essays and was quoted as being "Wickedly smart, funny and witty" by Kirkus Reviews and recently made NPR's 2018 Good Reads List and Entertainment Weekly's Must List. You may also know him from his recurring segment "No More Mr. Nice Gay" on Totally Biased with W. Kamau Bell, serving as "Staff Homosexual" on Chelsea Lately and his performance as Natalie Portman's sassy gay friend in the feature film No Strings Attached. Noticing a trend? Guy has also appeared on Conan, @Midnight, The Nightly Show with Larry Wilmore, The Meltdown with Jonah and Kumail, Road to Roast and Debate Wars. As a TV writer, Guy was a supervising producer on Comedy Central's hit show The Other Two. He spent three seasons writing for Hulu's The Mindy Project and was a producer during the show's last season. Other TV writing credits include A League of Their Own from Amazon, Punk'd and Awkward on MTV, Another Period on Comedy Central, Billy on the Street on truTV and Fashion Police on E! He is currently a Co-EP on the Netflix animated project Q-Force and the live-action pandemic NBC comedy Connecting and is rebooting the rom-com How To Lose a Guy In 10 Days for Paramount/Quibi.
Irene Tu is a stand-up comedian, actor, and writer. In 2017, the San Francisco Chronicle singled her out as an "artist on the brink of fame," on the heels of being named one of the "Bay Area's 11 Best Stand Up Comedians" (SFist) and one of 20 "Women to Watch" (KQED). She has performed at numerous festivals including SF Sketchfest, Comedy Central's Clusterfest, RIOT LA, Bridgetown Comedy Festival, and Outside Lands. Irene has opened for comedians such as Patton Oswalt, W. Kamau Bell, Brian Posehn, Anthony Jeselnik, Gary Gulman, Judah Friedlander, Hari Kondabolu, and Aparna Nancherla. You can see her on season 2 of "Take My Wife" and on VICELAND's "Funny How?"
Ali Macofsky is a comedian from Los Angeles, California. She's been a semi-finalist in Standup NBC, received over one million views on Just For Laughs Digital, and was a regular on over 100 episodes of The Comedy Store's Kill Tony Podcast. Macofsky has also opened for Joe Rogan at theaters and arenas as well as headlining clubs herself across the country.
ABOUT NOWHERE:
When COVID-19 hit, every comedian lost their ability to tour. Nowhere Comedy Club is a way around that - a full comedy club experience from the comfort of your home (assuming your home is comfortable). Watch your favorite touring acts while they can't tour. And since there's no travel costs, tickets are more affordable to fans!
RULES AND PROCEDURES:
This show is limited, so don't wait to purchase your ticket.
Your ticket gets you access to the Zoom chat. Please make sure to download the Zoom app on your phone or computer ahead of time. We encourage the audience to keep their mics on so that everyone can hear the laughter. If your mic is on, headphones are mandatory to prevent feedback. You are welcome to have your video on or off. Please be respectful: if you interrupt the performance or do anything inappropriate on video you will be locked out of the show.
Upon purchase, you will be emailed a Zoom link - DO NOT SHARE IT. Only one person can use each link, and if more than one person tries to use it, both people will be locked out of the show.
DISCLAIMER:
Nowhere Comedy Club is providing a service via the use of Zoom's platform, a platform we do not own or control. By purchasing a ticket you agree that any problems or issues caused by using Zoom's technology are not the responsibility of Nowhere Comedy Club, but if necessary can be taken up by you directly with Zoom itself.
By purchasing a ticket you are acknowledging you are aware audio and video of the show will be recorded, and you grant the comedians and Nowhere Comedy Club the irrevocable permission to utilize the footage and your likeness as contained therein, in any way, throughout the universe in perpetuity, so long as the context is not changed to alter the meaning of the original interaction, or to imply an endorsement of any kind. You are welcome to keep your camera off if you prefer not to be seen. That said, most shows will not utilize the recording for anything, as the shows are generally only seen live.