Description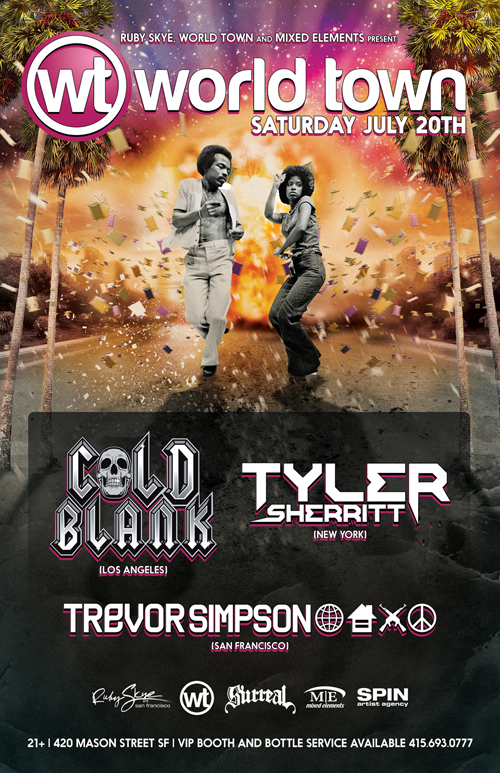 There's not much time left. Soon reptilian shape-shifters from another planet will enslave the world and mankind will no longer rule Earth. As the reptilians secretly gain more power and influence within all facets of world government, we inch closer and closer to impending doom. On the brink of peril, COLD BLANK has found the only rational resolution: RAGE!

Destroying dance floors everywhere with massively heavy beats, Chris Gaspar and Manny Luquin, the electro house producers behind COLD BLANK, are at the top of their game. As owners of the reputable record label Burn The Fire, they have their fingers on the pulse of raw electronic dance music (EDM) and are keeping it pumping hard with their debut full-length album THE AGENDA. This blistering 10-track album is filled with their trademark banging electro sound and also sees them exploring other genres for the first time such as dubstep ("Louder Than Bombs") and drum & bass ("Signs of Chaos"). Also present are COLD BLANK classics "Los Angeles" and "2012," plus recent hits "Deception," featuring vocals from Blake Miller of Moving Units, "Onslaught," featuring Andy Taylor (Duran Duran's original lead guitarist), and "Louder Than Bombs," which sat for weeks at #2 on the Beatport Dubstep Top 100 Chart. Elsewhere on the album, collaborators and features include Veela, Electric Soulside and Neon Stereo. Within days of The Agenda's release, all 10 of its tracks were charting on Beatport in their respective genre charts, including their first foray into Drum & Bass, "Signs Of Chaos," which immediately blasted its way into the D&B Top 10 and landed at #2.

Launching their Burn The Fire brand in 2008 with a wildly successful party in Los Angeles called Smash Disco, COLD BLANK has played a large role in shaping the scene and sound of the Los Angeles party world. The next year saw their very first release chart on the Beatport Top 100 and they've continuously hit that marker ever since. Early tracks like "Dutchie," "Raver Booty" and "The Lizard King" have become electro house anthems, and more recent songs like "Die Famous," "Redroid" and "Ancient Physic Tandem War Elephant" show that COLD BLANK has no intention of slowing down. Having remixed artists like Chuckie, Steve Aoki & Angger Dimas vs. Dimitri Vegas & Like Mike, Robbie Rivera, Zedd, Spencer & Hill, Joachim Garraud, Stafford Brothers, Vandalism, Rank 1, and PeaceTreaty. They also cranked out a dubby electro hip-hop remix for Cypress Hill & Rusko w/ Damian Marley which landed them their first #1 on Beatport in the Hip-Hop Chart. Their extensive catalog is supported by many top DJs including David Guetta, Armin Van Buuren, Tiësto, Chuckie, Moby, Knife Party, Benny Benassi, Axwell, John Dahlback, Morgan Page, Gareth Emery, Paul Oakenfold and more. The guys have got a bunch of exciting projects coming in 2013 including another collab with Neon Stereo featuring vocals from Julien-K vocalist Ryan Shuck, and also a huge collab with dance music pioneer and legend Moby! The guys have also jumped on board the massive ship that is Ultra Records and have been commissioned to deliver new remixes for Brass Knuckles and Ricky Blaze.

COLD BLANK has played all over North America and also in New Zealand, Australia, Brazil, Canada, Mexico, and South Korea, taking their explosive live show worldwide while it's still under human control. But the clock is ticking for all of us, the person standing right next to you could be a reptilian in disguise…so crank it up before the reptilians enslave us all!
Tyler Sherritt is being called, by many, one of today's hottest up and coming rising stars in the EDM industry. As a Singer, Songwriter, DJ, and Producer, Tyler has been placed in a category set apart from the others, making him a powerful force to be reckoned with as his career continues to flourish.
Tyler Sherritt has already conquered his quest to play every main stage house music venue in NYC including headlining performances at Pacha, Santos Party House, Cielo, and Webster Hall, with supporting shows at Roseland Ballroom, etc. Most recently Sherritt joined the Insomniac Events mega NYC festival Electric Daisy NY where he made his debut on the Kinetic Field main stage for thousands of festival attendees. Sherritt's success has provided him the opportunity to perform up and down the East Coast and across the United States, hitting up some the largest U.S. cities and Top College Party Schools in the nation. For Spring Break 2013 Tyler Sherritt joined Bounce Music Festival, Xtreme Trips and I'm Schmacked, in Puerto Vallarta, where he played alongside Michael Woods, TJR, and Bassjackers; and he was recently able to add Miami Music Week 2013 to his already extensive resume! Tyler has played with a wide variety of legendary artists such as Eric Prydz, Dirty South, Dash Berlin, Deniz Koyu, Gregori Klosman, Jochen Miller, John Dalhback, Madeon, Sunnery James & Ryan Marciano; and, he properly ended 2012 by playing NYE with #1 Rated DJ by DJ Mag, Armin van Buuren, at Pier 36 in NYC. Sherritt's energetic shows constantly demonstrate his diversity as an artist; and when he sings his original tracks, live, his show turns into a next-level performance.
Sherritt's music has gained support from some of the most talented artists in the world of Electronic Dance Music. "Maze" - First State ft. Tyler Sherritt [Magik Muzik] has been supported by Axwell, Armin van Buuren, Gareth Emery, Tiesto, Jochen Miller, and many others. "On the Otherside" - Jake Shanahan & Tyler Sherritt [PinkStar Recordings] was supported by EDX on No Xcuses ep. 52. Paul Oakenfold and the Perfecto family continue to show support for Sherritt's collaboration with Swab & Joey Mova, "Lux in Tenebris," [Perfecto Fluoro Records] which was released on Oakenfold's label in July 2012. Tyler Sherritt and fellow DJ/Producer Carl Nunes (a Guatemalan native) recently released, "Survive," which held the #1 spot on the Top 20 Charts of all major radio stations in Guatemala for 4 straight months. Sherritt and Nunes are expected to release their new vocal track, "Reflect," (also including Tyler's vocals) by the summer of 2013.
With several other LARGE event announcements on the way the Set List Agency team is extremely excited for the release of Tyler Sherritt's first solo produced track, "Petrichord." Currently "Petrichord" can only be heard during one of Sherritt's live performances but the final track, which includes vocals from Sherritt himself, will be announced and released under Garth Emery's label Garuda in the coming weeks. STAY TUNED!
Terms and Conditions:
This event is 21 and over. Any Ticket holder unable to present valid identification indicating that they are at least 21 years of age will not be admitted to this event, and will not be eligible for a refund.
Support lineup subject to change. No refunds will be issued for lack of identification or invalid identification.
Fashionable Attire is required, no sneakers, shorts, tank tops, baseball hats or gym clothes.
By purchasing a ticket, you will also receive weekly email blasts from Ruby Skye about upcoming events, guest lists and more.
Organizer of Cold Blank & Tyler Sherrit
Ruby Skye is San Francisco's premiere Nightclub and Special Event Venue. It is conveniently located in the heart of downtown San Francisco just off of Union Square and the famed theatre district. Whether you are a seasoned nightclub enthusiast, looking to go out for the memorable evening, or wish to host a private event, Ruby Skye is available for all your entertaining needs.