Colburn Orchestra #5

Saturday, March 3, 2012 at 7:30 PM (PST)
Event Details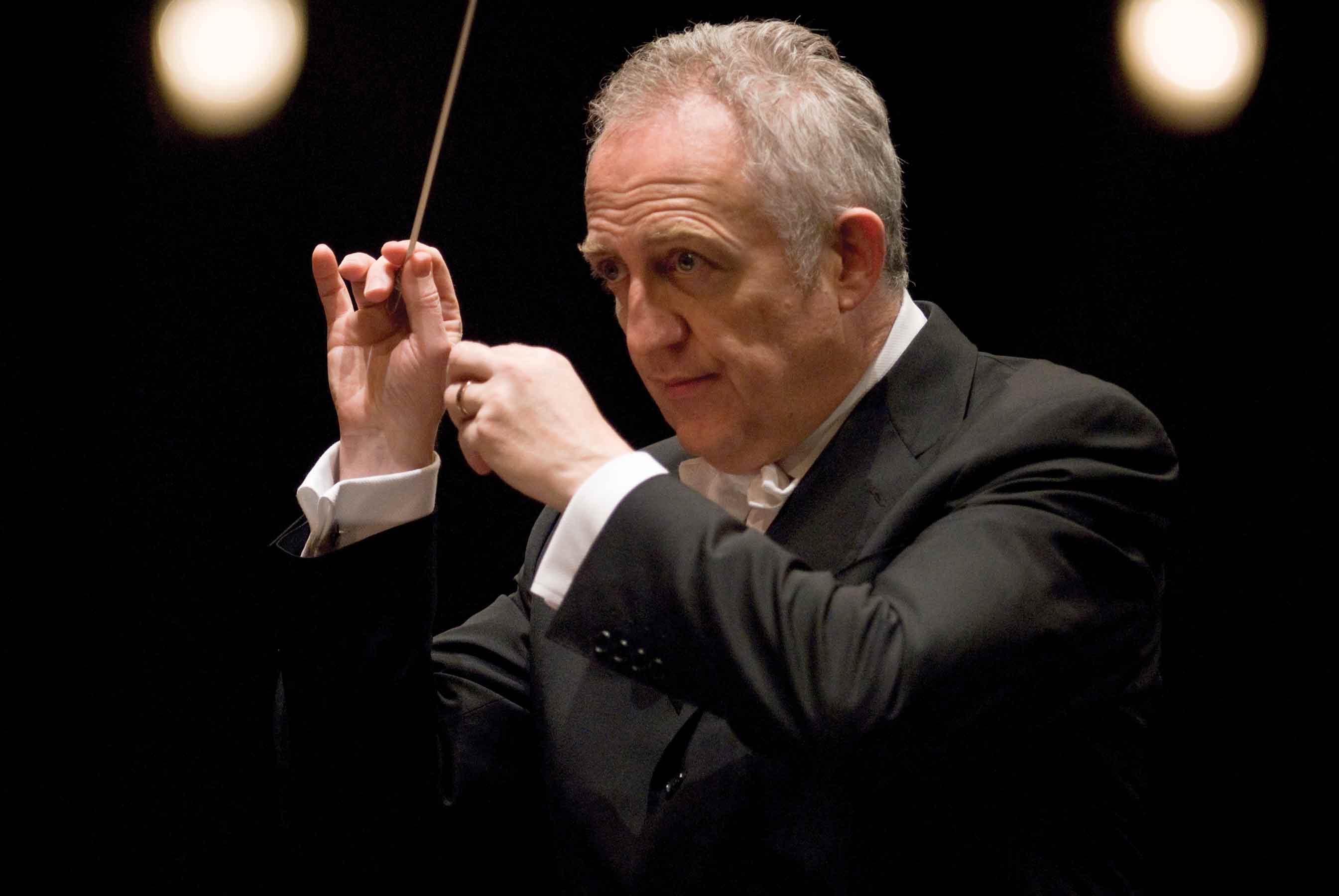 Yehuda Gilad, music director
Bramwell Tovey, guest conductor
Sichen Ma, piano
Program

Brahms: Piano Concerto No. 2
Strauss: Ein Heldenleben

Music Director of the Vancouver Symphony and Principal Guest Conductor of the LA Philharmonic at the Hollywood Bowl, Bramwell Tovey leads the orchestra in the final concert of the 2011-12 season. Strauss's Ein Heldenleben, or "A Hero's Life" is a tone poem that depicts the struggles and ultimate triumph of a hero, meant to represent Strauss himself.Conservatory student Sichen Ma joins the orchestra for Brahms's second Piano Concerto, a piece which fellow composer and pianist Franz Listzt called "distinguished work of art, in which thought and feeling move in noble harmony." Ma has been soloist with the Toronto Symphony and the Los Angeles Philharmonic.
About Bramwell Tovey
"Tovey melded rhythmic precision with long, lovingly shaped melodies, characteristics that prevailed throughout the evening" --Robert D. Thomas, Music Critic- Pasadena Star-News/San Gabriel Valley Tribune/Whittier Daily News
Bramwell Tovey is Music Director of the Vancouver Symphony, a post he has held since 2000.  He continues as Principal Guest Conductor of the Los Angeles Philharmonic at the Hollywood Bowl, and as founding host and conductor of the New York Philharmonic's Summertime Classics series at Avery Fisher Hall.  In 2008, he received a Grammy award for his recording of the Barber / Korngold / Walton: Violin concertos with James Ehnes and the Vancouver Symphony Orchestra on the CBC Records label.
An esteemed guest conductor internationally, Tovey has made guest appearances with the orchestras of Baltimore, Philadelphia, St. Louis, Pittsburgh, Detroit, Seattle, Montreal, San Francisco as well as regular visits to Toronto Symphony and he will make his debut with Cleveland in 2012/13 season. Recent successes in Europe and the UK, include concerts with the Royal Philharmonic Orchestra, Ulster Orchestra, Trondheim Symphony, Bergen Philharmonic, Helsingborg and Bournemouth orchestras, all of which he returns to regularly.  In Asia, Tovey returns to the KBS Symphony every two seasons since making his debut in 2008 and to Shanghai Symphony and Guangzhou Symphony.  Having made a successful debut with Melbourne Symphony also in 2008 he returns each season to the orchestra and in 2009/10 he was appointed as curate for their contemporary music Festival – Metropolis. In 2011/12, he will make his debut with the Sydney Symphony.
Previous positions held include Music director of the Luxembourg Philharmonic (2002 - 2006) and the Winnipeg Symphony Orchestra (1989 - 2000).  Notable successes in Luxembourg include three tours in Europe, the Far East and the eastern United States, traveling to China, Korea, Germany, Austria, Italy, the Czech Republic, Estonia, Holland and Belgium; being awarded the "Orphée d'Or" of the Academie Lyrique Francaise, for their critically praised recording of Jean Cras's opera, Polyphème in 2004 and in 2005 celebrating the opening of the new Philharmonic Hall (Luxembourg Philharmonie), with the world premiere of Penderecki's 8th Symphony, composed especially for the occasion. In Winnipeg, he founded the highly regarded New Music Festival. A significant milestone in the ensemble's exploration of new music, the festival premiered more than 250 works by diverse international and Canadian composers under Tovey's leadership, with every performance broadcast on Canada's CBC Radio.
Awarded numerous honorary degrees, Tovey has received a Fellowship from the Royal Academy of Music in London, honorary Doctorates of Law from the University of Winnipeg, the University of Manitoba and Kwantlen University College, as well as a Fellowship from the Royal Conservatory of Music in Toronto. In 1999, he received the M. Joan Chalmers National Award for Artistic Direction, a prestigious Canadian prize awarded to premier artists for outstanding contributions in professional performing arts organizations.
About Sichen Ma
SICHEN MA began his piano study at the age of five in his hometown Zhengzhou, China. From 1999 to 2006, he was a student of China's renowned music school- The Central Conservatory of Music, and studied professional piano performance with professor Hui Zhong and Jun Yang. Mr.Ma has performed on stages of North America, Europe, and Asia. He is the award-winner of numerous competitions: at the age fourteen, he was the 1st-prize winner of Asia Youth Piano Competition in the area of China and the 3rd-prize winner in the final stage in Hong Kong; He was the 2nd prize winner of China Steinway Piano Competition at age 15; and he received the 3rd prize of the 10th Missouri Southern International Piano competition in Missouri, USA in 2004; the 1st prize winner of the Beethoven Music Festival competition in Henan province, China and was consequently invited to perform a concert in the 2004 Beethoven Music Festival at the Beethoven Music Hall in Bonn, Germany. Recently, Mr. Ma is about to perform the Brahms Piano Concerto in B-flat major with the Torrance Symphony as a result of wining the symphony's Young Artist Competition. Mr. Ma has also been offered fellowship to many music festivals including the Morningside Music Bridge at the Mount Royal College in Calgary; the Orford Academy in Québec and the Banff Music Festival in Banff, Alberta.
 
In pursuing of further musical achievements, Mr. Ma begun his studying abroad in the summer of 2006. He spent two years in Canada studying at the Vancouver Academy of Music with Prof. Lee Kum-Sing and The Glenn Gould School of the Royal Conservatory of Music in Toronto with Prof. John Perry with full scholarship provided. His Toronto debut was at the Richard Branshaw Amphitheatre of Canadian Opera Company in October 2007. He also performed Beethoven Piano Concerto in G with the Toronto Symphony Orchestra under the baton of Peter Oundjian in a commemoration concert for Glenn Gould at the Roy Thompson Hall in 2007. Presently, Mr. Ma is continuing his study with Prof. John Perry at the Colburn Conservatory of Music.
---
Seating begins approximately 30 minutes prior to the concert. In consideration of our artists and patrons in the hall, late seating will take place at the discretion of management. Certain programs are performed without intermission; therefore, no late seating can be offered at those concerts.
As a courtesy to the musicians and your fellow patrons, please turn off all pagers, mobile phones, watch alarms, or other electronic devices prior to the concert, and refrain from making noise (talking, coughing,  unwrapping candy) during the performance.
Everyone in your party, regardless of age, must be able to sit quietly through a 2 hour concert without disturbing other patrons or the artists. Ushers will ask parents whose children are noisy or uncomfortable to take them outside of the hall. If there is repeated disruption, The Colburn School reserves the right to revoke admission and refund your ticket price.
All patrons must have a ticket to enter the hall.  Information about accessibility is available by calling 213-621-1050.
When & Where

Ambassador Auditorium
131 S. St John
Pasadena, CA 91105


Saturday, March 3, 2012 at 7:30 PM (PST)
Add to my calendar
Organizer
The Colburn School
The Colburn School is a world-class performing arts school committed to offering the highest level of instruction to students from across the globe.
Located in the heart of downtown Los Angeles, the Community School for Performing Arts (CSPA), provides outstanding faculty and facilities to create an optimal environment where nearly 2,000 students of all ages and backgrounds can excel to their highest potential. 
The school presents its students, faculty and guest artists in more than 300 performances each year, many of which are free.
For a full list of events, visit our calendar at http://www.colburnschool.edu/events.