Description
Colaborator's MediaATX events bring together video, media + filmmaking professionals looking for work in the Austin media industry, as well as those looking to collaborate on their own projects! Find out what opportunities are available to you now!
This August panel is featuring the co-founders of the ATX TV FESTIVAL Caitlin McFarland & Emily Gipson! The ATX TV Festival brings in thousands of television professionals from around the world each year and is.geared 50% towards television fans and 50% towards those working or wanting to work in the industry, with panels ranging in topics from "behind the scenes" looks at your favorite series, to more technical topics on where the medium is headed and how technology and "where we are watching" effects content. Caitlin and Emily have created what many call "the festival to hit "as there is so much amazing programming and access to folks in the business. This is one panel you won't want to miss!
Please RSVP to confirm your attendance. Free beer/tacos/and coffee awaits! THE LOCATION FOR THIS IS NEW AT FIBERCOVE ON S. LAMAR! Free parking is available in the parking lot by fibercove and there is also an overflow parking lot in the back.
-----------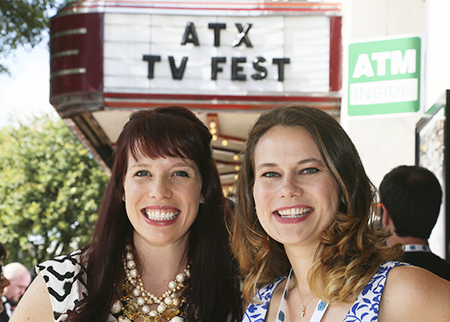 Co-Founders Caitlin McFarland and Emily Gipson come from a variety of areas of the entertainment industry — from film & television production to working within the network & studio systems; as well as being on the ground level of both the festival and filmmaker sides of Sundance, Tribeca and Doha Tribeca. Combining their knowledge, along with the ATX Team and a wide number of prominent industry professionals that make up the Advisory Board and ATX Ambassadors, ATX Television Festival is truly a one-of-a-kind festival experience.
Stay connected with us on our Colaborator Facebook Page for Video Industry Jobs and MediaATX Facebook Page for event information.