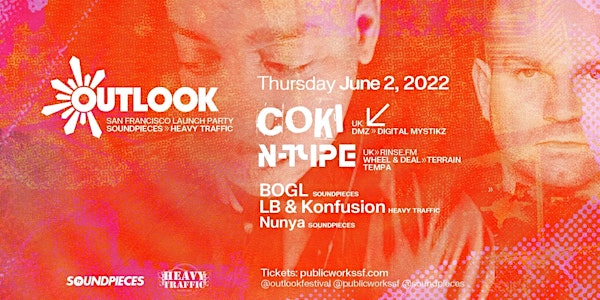 Coki, N-Type & More - Outlook Festival SF Launch Party
Event Information
Performers
Location
Public Works
161 Erie Street
San Francisco, CA 94103
Coki, N-Type & More - Outlook Festival SF Launch Party
About this event
Thursday June 2nd, 9pm - 2am
Main Room / 21+ / Limited Capacity
Soundpieces, Heavy Traffic and Public Works present the Outlook Festival SF Launch Party featuring the long awaited return of Coki and N-Type, iconic godfathers of Dubstep hailing from the UK. With an exclusive B2B from founders of Soundpieces and Heavy Traffic Recordings.
LINEUP:
➩ Coki (DMZ, Digital Mystikz)
➩ N-Type (Rinse.FM, Wheel & Deal, Terrain, Tempa)
➩ BOGL (Soundpieces)
➩ LB & Konfusion (Heavy Traffic)
➩ Nunya (Soundpieces)
WIN A PAIR OF TICKETS TO OUTLOOK UK! Join the raffle - Winner announced 12AM at the show!!! To enter the raffle email your legal name with "Outlook Raffle" as the subject to soundpiecesparty@gmail.com. (You must have a ticket to this event, a legal passport, and be fully vaccinated for Covid to go to enter.)
ABOUT OUTLOOK — Outlook Festival is Europe's premier bass music festival, bringing the best in sound system culture to Croatia and beyond each summer for 14 years. Helping to curate the lineup will be a carefully selected handful of the scene's most influential artists and tastemakers from the worlds of dubstep, dub, reggae, drum and bass, jungle, UKG and grime. Although held in Croatia, many of the attendees come from the United Kingdom as do much of the team involved in organizing the festival…
So for the first time in the festival's 14 year history, Outlook is also happening in the UK. Normally found on the sunny shores of Croatia, from its former home in Pula to its more recent residence in Tisno, the beloved celebration of soundsystem culture is now adding an edition on home soil, across four days and nights held in the scenic grounds of Cholmondeley Castle in Cheshire, northwestern England.
COKI — The quiet man who makes a big noise, or "creatively one of the sickest producers of all time" as his production and DJ partner Mala puts it – he is without question among the most influential musicians of the 21st century. His fans include some of the biggest and highest-earning names in dance, from Skrillex to Skream. With a good decade of classic tunes thoroughly demolishing raves both solo and as half of Digital Mystikz, his absence from the USA is about to be interrupted with a reawakening of his true UK Dubstep sounds.
N-TYPE — Renowned for his upfront and eclectic selection, technical mixing and crowd pleasing shows since dubstep's infancy. He performs on 3 – 4 decks (solo) and has built up a consistent catalog of releases on some of the biggest Dubstep Labels such as Tempa, Dub Police, Black Acre, Black Box and his own imprints Wheel & Deal Records, Terrain and Sin City Recordings. He has also remixed artists such as Wiley feat Emeli Sande, David Boomah, Leon Anthony, Utah Jazz, Cinnamon Chasers, Lemon D (Valve), Big Black Delta, J Sweet and Big $hot. His current focus is on his Dubstep & Grime production with many new releases penned in with Wheel & Deal Records.
Wheel & Deal Records has regular parties in London and has had Festival stages at Tomorrowland with Daily Dubstep and party boats at Outlook festival.N-Type has a show on Rinse Fm second Thursday of every month 1-3am, showcasing the freshest beats and guest mixes from artist's at the forefront of Dubstep, Grime and bass driven music
SOUNDPIECES — Since 2006 Soundpieces has been a consistent staple of diverse, forward thinking electronic music in San Francisco and across the globe. A clan responsible for countless Bay Area debuts such as Skepta, Skream at Symbiosis Gathering 2006, Mount Kimbie for the opening club Public Works, Hudson Mohawke & LuckyMe Crew, Nicola Cruz, Deep Dark & Dangerous, Shlohmo at an underground, Machinedrum, G Jones, and countless others. We take pride as the longest running bass music weekly to ever exist in the Bay, over 8 years on Tuesdays at Monarch.
Even after Covid, Soundpieces has maintained its role as one of the lead ambassadors of international left-field bass music in California; and our work doesn't stop in San Francisco... We have helped book festivals such as Symbiosis Gathering, produced one-offs in New York, Detroit, SXSW Austin, Outlook Croatia Boat Parties, warehouse parties by the dozens, toured Asia, Europe, and continue to collaborate internationally to keep the pulse of Bass Music alive. Valuing quality over any specific genre or style, Soundpieces plugs fresh musical styles in the most sophisticated, well equipped venues. With our rotating roster of new talent and heavyweight artists over the last 16 years, we have built a legacy as one of the West Coast's greatest resources to experience underground electronic music. @SOUNDPIECES
BOGL — Griffin March is a self-taught DJ originally from Las Vegas, NV. Founder of San Francisco's legendary Soundpieces parties, Bogl has been able to host and play alongside current left-field artists around the world for over 15 years. His charisma is like that of a friendly ghost; he is kept close to your heart as one would a godfather, while basically existing as an untouchable phenomenon. He's become known for appearing out of what seems like thin air to play an eclectic selection of bass heavy sounds, take you to an unfathomable dimension, then suddenly vanishing to another far off place. It makes us wonder how it's even possible for Bogl to exist. His career has taken him on countless tours with artists such as Diplo and Truth. He's been a resident at Outlook Festival, Symbiosis Gathering among others, and makes frequent stops anywhere from Asia, to Europe, to Canada. @bogl_was_here @bogls
LB & KONFUSION - HEAVY TRAFFIC RECORDINGS — This Nor Cal duo has been firing up dance floors for almost two decades. From South Tahoe's Gravity Crew to Santa Cruz Dubstep, they have always made it a mission to create a family vibe. Hosting, DJing & collaborating with parties since Tahoe 2001 to present day Nevada City. Playing shows from the West Coast, to Miami, Denver, Amsterdam, Berlin, Croatia and beyond. An integral part of the Sub.FM roster, the pair hosts Heavy Traffic Radio - the longest running US show originally founded by Fish Finger & The Builder in 2008. LB & Konfusion has been dubbin out on the webwaves for over 14 years. Mostly on a DJ tip, Konfusion has produced a couple vinyl releases on War Records and Steps In Time Recordings, both in collaboration with Matty G. LB has worked some vocals with Fish Finger, with more to come. 2017 brought the launch of their label, Heavy Traffic Recordings with releases from Matty G, Babylon System, Pushloop, AxH & Dayzero, A Hundred Drums, Basiclee, Dalek One, and many more. With music selections in jungle, dubstep, reggae, hiphop, breakbeats...
Check out Heavy Traffic Radio Sat nights 7-9pm Pac time on www.sub.fm. @heavy_traffic_recordings @subfmradio
NUNYA - Born Adriana Sparkuhl Las Vegas, NV. Became founder of the legendary San Francisco events known as Soundpieces shortly after moving there and witnessing the first time UK Dubstep was formally played out in 2005.. a night that changed the fabric of sound in the Bay Area. Specializing in a variety of bass music for over 15 years, Nunya has conceptualized into what she is today… going from being behind the magic, to becoming the frontwoman of an underground movement. @nunyaplaynice @soundpieces
This event is 21+
SF VACCINE MANDATE HAS BEEN LIFTED - You are not required to show proof of vaccination to enter this event.
━━━━━━━━━▲━━━━━━━━━
When you purchase tickets to this event you'll automatically be signed up for LOCAL 161, our SMS community where you'll get special invites + guestlist + other perks as a thank you for your support. You'll receive about 4 messages per month, message and data rates may apply, and you can text STOP to cancel at any time.
Performers
Date and time
Location
Public Works
161 Erie Street
San Francisco, CA 94103
Refund policy