Description
Sis, this is for you - get your tickets today!
Coin Financial, a non-profit financial planning concierge curating creative experiences for girls and young women in an effort to increase financial literacy, is throwing another great event.
Coins & Cocktails is an evening of synergy and conversation as women in various leadership positions share their professional and financial journeys. Following the panel discussion, join us for a networking happy hour.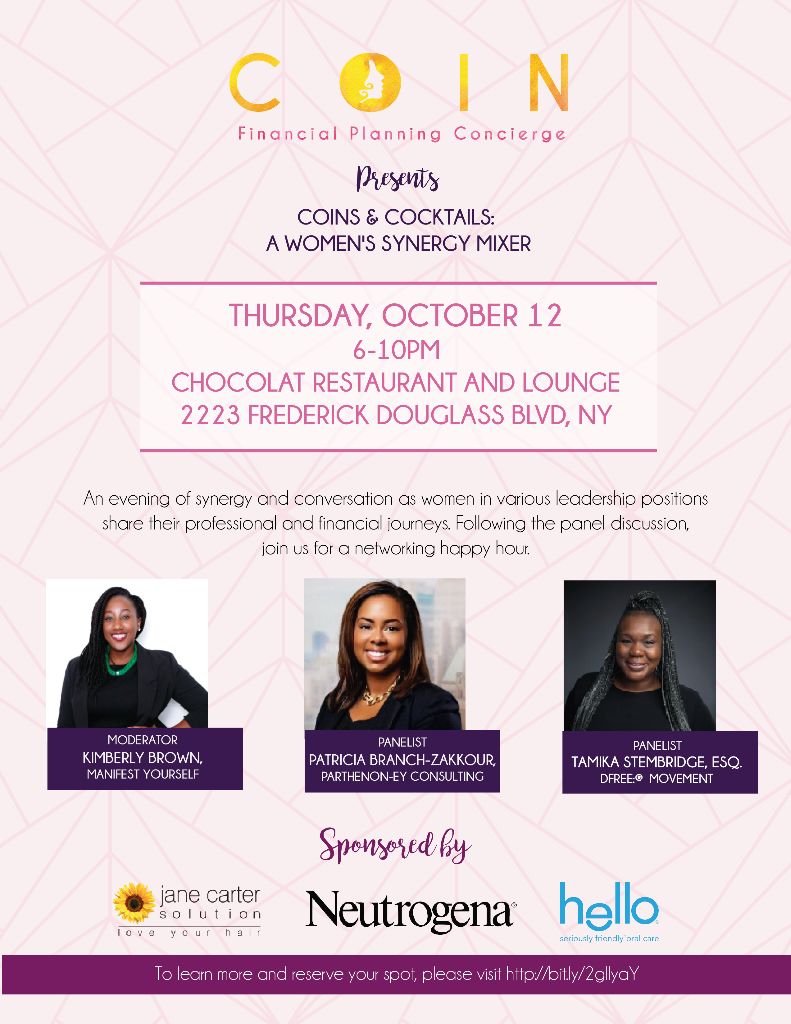 MEET THE PANEL
Moderator: Kimberly Brown, MS is an entrepreneur, speaker, and career + leadership coach. Her personal and professional development company, Manifest Yourself, LLC, provides in-person and virtual workshops, trainings, and coaching to millennial professionals looking to lead a dynamic career and life. Through her experience as a career development adviser in some of the nation's top universities, she has learned that there is so much more to career development besides having a high paying job; it's about creating a lifestyle that allows you to do more, be more, and achieve more.
Panelist 1: Tamika Stembridge, Esq. is an entertainment attorney, strategic consultant, and manager by trade, that works daily to turn dreams into reality. As an MBA-toting attorney, life-long lover of music, and business professional with experience that spans corporate, nonprofit, and start-up organizations across a variety of industries including entertainment, education, and fashion; Tamika brings a wealth of skills, talents, and passion to any endeavor. With a mind for all things creative, commercial, and community, Tamika now lends her talents beyond traditional entertainment and serves as the Executive Director of the dfree® Financial Freedom Movement. Her blend of leadership, vision, insight, follow-through, passion, personal commitment and unique ability to engage people at all levels is a prized catalyst for growth and service that dfree® requires to meet the needs of the community at large.
Panelist 2: Patricia Branch-Zakkour, MBA is a consultant at Parthenon-EY. Parthenon-EY is a strategy consultancy, committed to bringing unconventional yet pragmatic thinking together with our clients' smarts to deliver actionable strategies for real impact in today's complex business landscape. She received her B.A. from Emory University and her M.B.A. from Harvard Business School. She volunteers as a Team Lead at Christian Cultural Center (CCC), a premier spiritual institution in New York City with a registered membership of over 37,000.
Date and Time
Location
Refund Policy