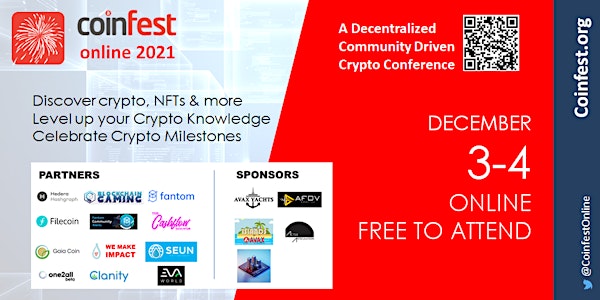 Coinfest 2021
Coinfest2021 is having its Online summit hosted on December 3rd and 4th. Join us as we celebrate everything crypto!
Refund Policy
Contact the organizer to request a refund.
About this event
Get your Coinfest Access here:
https://events.zoom.us/ev/AL3lGMMTnhGPTDlmVe61H5TIVw9FRAJX69L4hU-CK_NW8sOSaOuYpFArid_SVobGUFYVaiQ
Coinfest2021 is having its Online festival location hosted on December 3rd and 4th. Join us for 2 days of learning, sharing, and celebration of everything crypto featuring some of the crypto community's movers and shakers / up and coming people in this space. We will be hosting free workshops, speaker presentations, crypto activities, exhibitors from around the world and crypto artwork!
Learn about Bitcoin, DeFi, Blockchain, Fintech and everything new and upcoming in the crypto space! As always our event is free to attend! Tickets are required for the attendance link.
What to expect:
BIG IDEA sessions - hear from some of the movers and shakers in the crypto space building big things from tokenizing real world assets to applying blockchain for community activism.
Crypto 101 sessions- Get up to speed on best practices in the crypto space.
Level Up sessions- Learn from seasoned experts and grow in your crypto experience from trading to Blockchain gaming, NFT buying and ecosystem overviews
NFT giveaways & Airdrops
Discover some of the latest projects in the crypto space
Sessions:
Opening Remarks
Crypto Security and best practices
Ecosystem overview - Hedera Hashgraph
Blockchain Gaming
The future is No code (Non devs can thrive)
Building on the blockchain as a Non Dev Founder
Crypto for Good
Crypto Sustainability Panel
Bitcoin Fundamentals by a Bitcoin OG
Ecosystem overview - Fantom Opera Network
Ecosystem overview - Filecoin
Ecosystem overview - Gaia Coin
Dos and don'ts of Crypto Taxes
Introduction to Crypto Trading
What makes us different?
For everyday people - Unlike the flashier conferences catered to just whales, we want to cover all sorts of topics relevant to crypto users from all walks of life. Topics like "Thriving as a non developer", "Crypto-life balance", "Crypto and parenthood", and other life base topics, you'll never see elsewhere.
Independent - We are not owned by any institutions and do not have to worry about following a certain narrative/bias)
Community Dao - We plan to create a DAO and community token for past and future conference participants to democratically decide on the direction and future topics
Interested in sponsoring?
Feel free to send us an email at:
coinfestonline@protonmail.com
CoinFest is made possible by the generous donations of community members. Donations can be sent to (ETH/BSC/FTM/MATIC/AVAX etc...)
0x066acC7C3e1c9748e0aCe3e2Bd8688E227c822eA
Website: http://Coinfest.org
Twitter: https://twitter.com/CoinfestOnline
==============
Once you're registered, be sure to get your zoom access here:
https://events.zoom.us/ev/AL3lGMMTnhGPTDlmVe61H5TIVw9FRAJX69L4hU-CK_NW8sOSaOuYpFArid_SVobGUFYVaiQ
Tags: blockchain, exchanges, cryptocurrencies, defi, mining, online payments, Investment, cryptocurrency market, bitcoin cash, financial, money, conference, blockchain life, summit, bitcoin, Kraken, Binance, Decentralized Finance, smartcontract, smart contract, invest, investing, B2B, crypto, AAVE, Polkadot, Linkchain, listing, mining, Eth, Ethereum, Btc, Litecoin, Neo, Eos, Tron, Kucoin, Huobi, Tether, Stablecoin, Tokens, Staking, Masternodes, Landing, Coinmarketcap