About this Event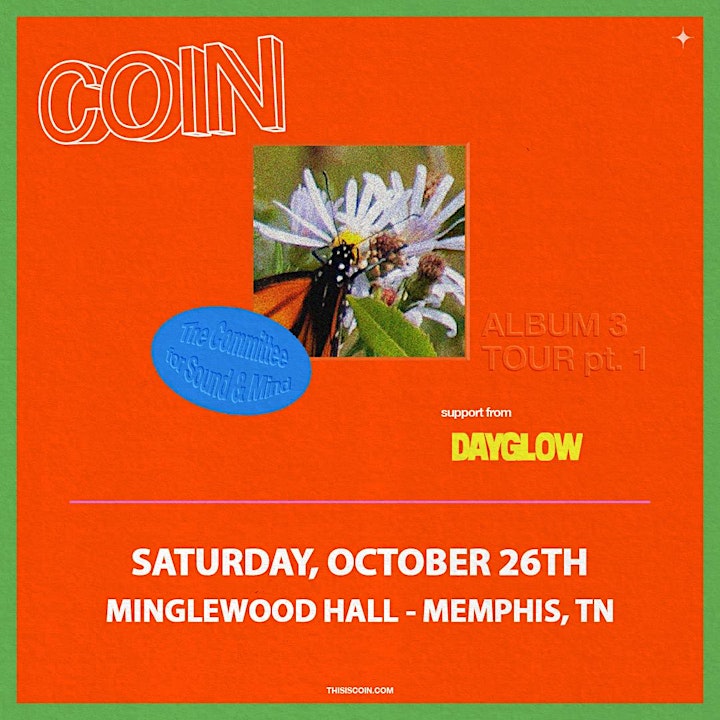 COIN
Chase Lawrence (vocals/keys) - Joe Memmel (guitar/vocals) - Ryan Winnen (drums)
Since the arrival of their 2016 breakthrough single "Talk Too Much," COIN have continually turned out sublimely catchy alt-pop, equally built on effervescent hooks and an understated complexity. With that dynamic earning them a passionate following, the Nashville-based trio have spent much of the past few years bringing their sing-along-heavy live set to frenzied crowds all across the globe. Now at work on their third full-length effort, COIN are embracing their pop instincts more fully than ever, dreaming up their most sonically adventurous yet emotionally direct batch of songs to date.
As part of their nonstop touring schedule in recent years, COIN have taken their unforgettable and intensely communal live performance to major festivals like Lollapalooza and Firefly, in addition to touring with such acts as Walk The Moon, The 1975 and Young the Giant. In every show, COIN aim to remove the barrier between band and audience, ultimately creating a nearly familial connection with the crowd. As they gear up for the release of their third album, COIN hope to deepen that closeness, a mission that traces back to their increasingly self-reliant and uncompromising approach to their artistry.
Produced by Grammy Award-winner Jay Joyce (The Head and the Heart, FIDLAR, Cage the Elephant), COIN's self-titled debut arrived in June 2015 and featured the irresistibly wistful single "Run"—a track that emerged as the fifth-most-spun song of the year on Sirius XM radio's Alt Nation. In April 2017 COIN put out How Will You Know if You Never Try, and soon saw lead single "Talk Too Much" hit the top ten on Billboard's US Alternative Songs chart. Now Certified Gold and at over 70 million streams on Spotify, "Talk Too Much" also earned lavish praise from outlets like Entertainment Weekly, who hailed the track as a "prime example of just how sweet indie alt-pop can sound when it's done right."
In June 2019, the band will release the follow up radio single "Crash My Car" from their forthcoming third studio album. Singer Chase Lawrence has this to say about the song and album – "For the past two years, we made this album in greenrooms, bedrooms, and sunrooms. In most ways, it's an actual journal of where we've been as a band & as people. Our goal was to record every song as we wrote it. We learned it was near impossible to recapture the excitement & authenticity of that moment when the idea collided with you. So, we kept iPhone recordings, untuned guitars, and distorted vocals. We wrote "Crash My Car" the day after we played a festival called Music Midtown for 15,000 people. Hearing so many scream "Talk Too Much", we knew we had to write an even louder chorus. The chorus melody came in a literal dream. The story came from a fan who was in a car accident on the way to our show, but she still showed up in her near totaled, headlight hanging sedan. Thank god she was ok! In that moment, the idea hit me: we don't need anything as long as we're together. No car, no money, the world is burning... but if we have each other, everything is perfect. It has a nice 70s tinge to it (couldn't quit listening to Big Star). And the chorus tempo change!"
Minglewood Hall Policies
What can you bring in? A Good Attitude to see a great Concert & Your Tickets or Will Call Info. A Valid ID (for patrons over 21 who wish to drink alcoholic beverages this is an absolute.)
Back Packs and Purses may be subject for search
Cameras – disposable & non-professional – this is show specific and determined by the artist. Email info@minglewoodhall.com the day before the show to confirm policy.
Audio Recording Devices – this is show specific and determined by the artist. Email info@minglewoodhall.com the day before the show to confirm policy.
PLEASE NOTE: Due to artist restrictions, some items listed above may not be allowed for certain shows. Please call or email info@minglewoodhall.com for show specific restrictions the week of the show.
What NOT to bring:
NO Outside Food or Beverage ,Alcohol, Lawn Chairs, Video Recording Devices, Coolers & Picnic Baskets, Firearms of any kind, Fireworks, Glass Bottles, Illegal Substances of any kind, Laser Pointers, Mace/Pepper Spray, Musical Instruments, Sharp or Dangerous items of any kind, Stickers/Decals, Weapons – of any kind, Umbrellas
IT IS OUR GOAL TO PROVIDE THE ABSOLUTE MOST FUN AND SAFEST EVENT POSSIBLE.
PLEASE REPORT ANY INCIDENTS TO A STAFF MEMBER AS QUICKLY AS POSSIBLE
NO MOSH PITS, SLAM DANCING or CROWD SURFING ALLOWED.
WE HAVE A ZERO TOLERANCE POLICY TOWARDS VIOLENCE OF ANY TYPE. ANY INCIDENTS WILL BE ADDRESSED BY THE EVENT SECURITY. ANY PERSONS INVOLVED IN FIGHTING OR VIOLENT ACTS WILL BE REMOVED FROM SITE AND/OR ARRESTED, NO EXCEPTIONS!
NO RE-ENTRY AT ANYTIME.
NO REFUNDS ON TICKETS PURCHASED.