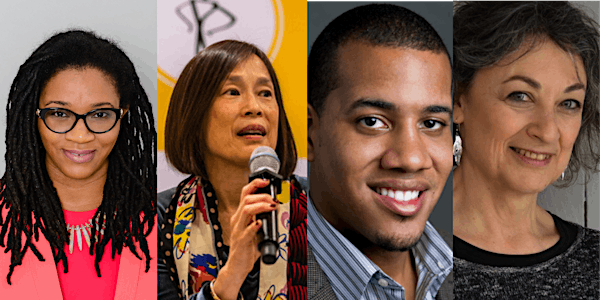 Cohort 3: Intersecting SEL, Social Justice, and Equity Program
Understand the intersections of SEL and equity, assess your program's current state, and gain insights and resources for implementation.
Refund Policy
Contact the organizer to request a refund.
About this event
Description
This virtual, interactive two-session program will focus primarily on helping individuals and teams from schools, districts, and other youth-serving organizations develop a shared understanding of the intersections of SEL and social justice. Participants will 1) develop a clear rationale why successful SEL implementation is contingent upon this intersection 2) assess the current state of leveraging SEL in service of social justice and equity in their community (including strengths, gaps, resistance, and opportunities), and 3) leave with new insights and resources for implementation.
Format
Two 2.5 hours sessions
Session 1 -Tuesday, June 7, 4:00 PM - 6:30 PM
Session 2 - Tuesday, June 14, 4:00 PM - 6:30 PM
Participants will be encouraged to attend with other team members from their schools, districts, and/ or community organizations.
Participants will meet in the same cohort configuration for both sessions, so as to develop a sense of community and strengthen networks of support.
Paying by Purchase Order
To pay by purchase order:
Enter your ticket order.
On the payment screen, at the bottom in the Purchase Tickets section, under Other Payment Options, click on Show.
Click on the Send Invoice button.
Send a purchase order to events@sel4ma.org. All purchase orders must be received no later than 3 business days prior to the event in order to finalize the registrations.
If you need a W-9 prior to submitting a purchase order, email us at events@sel4ma.org.
Kamilah Drummond-Forrester, a lead designer for this Intersecting SEL, Social Justice and Equity two-part series, is a speaker, consultant and workshop presenter on topics of educational equity, anti-racism, self-care and social and emotional learning. She has written about these topics in the Women Change Worlds blog and has articles in esteemed educational publications such as EdSurge, The 74million, and the Hechinger Report. Most recently, Kamilah was the Director of the Open Circle social and emotional learning program for children in elementary schools. She is a board member of the state social and emotional learning advocacy organization, SEL4MA and a steering committee member of the national SEL Providers Council. In all of her roles, Kamilah's passion for social justice and the social and emotional wellbeing of children fuels her commitment to advocating for and educating others about the inextricable connections between social and emotional learning (SEL), social justice and anti-racism. Kamilah is also a trained leader with the National SEED Project where she has led cohorts of colleagues, educators and parents through year-long community building experiences that leverage the power of story-telling, self-reflection and truth-telling to bridge build and empower.
Catherine Wong, a lead designer for this Intersecting SEL, Social Justice and Equity two-part series, leads global and national organizations and higher education programs in developing strategy, collective leadership, curriculum and training centering diversity, equity, inclusion and justice. Her effectiveness is the result of her direct ability to advocate from the heart and be unwavering in supporting youth and educators/professionals of color. Ms. Wong's leadership experience spans PK-12 through higher education. She has held clinical faculty and director positions at Leadership Brainery, Boston; Urban Outreach Initiatives, Boston College; University of the Middle East Project, Cambridge, MA; and the Counseling Department, UMass Boston. Ms. Wong also serves on the SEL-TEd Steering Committee; Boston Public Schools Equity Roundtable; Co-Chair of Leadership Brainery's Board of Directors, Board of Advisors for E3, Education, Excellence and Equity; and, as an Expert Panelist for the Global Diversity, Equity and Inclusion Benchmarks (GDEIB).
Marcus Penny has over 10 years of experience leading and learning in large urban school districts across the US. He works with a variety of administrations to recruit, monitor, and maintain educators and staff members of color as well as implement anti-racism strategies throughout school communities. Marcus has been recognized by the US Department of Education for his leadership in implementing culturally relevant, inclusion strategies for diverse groups of learners. He currently serves as Science Instructional Coach for the B.E.E.S. Program in the Boston Public School System.
Rachel Poliner consults widely on whole student approaches and constructive school communities for young people and adults. Her work focuses on school climate, instructional, and structural reforms: K-12 social and emotional learning, middle and high school advisory programs, teams and teacher leadership, and improving faculty climate. Since 2012, Ms. Poliner has helped build the Social and Emotional Learning Alliance for Massachusetts. Her most recent book is Teaching the Whole Teen: Everyday Practices That Promote Success and Resilience in School and Life.