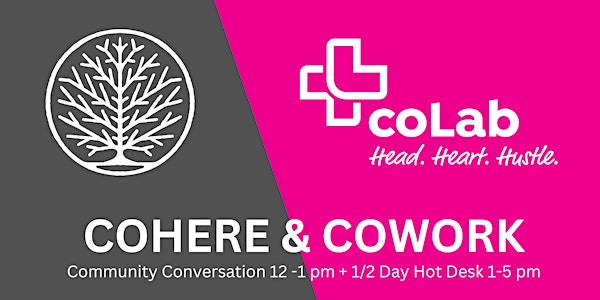 Multiple dates
Cohere + Cowork
Join for the community conversation at Cohere from 12 pm to 1 pm, and follow it with a half day of productive coworking.
Date and time
Tue, Feb 7, 2023 1:00 PM - Tue, Jul 4, 2023 5:00 PM PST
Location
Okanagan coLab 201, 1405 St. Paul Street Kelowna, BC V1Y2E4 Canada
Agenda
12:00 PM - 1:00 PM
Cohere
---
Join Cohere - Conversation and topics vary from month to month. To experience the coworking portion of this event, please join us at 12 pm.
1:00 PM - 4:45 PM
Cowork at coLab
---
Set up in the Commons and get stuff done!
About this event
Join for a community conversation at Cohere from 12 pm to 1 pm, and follow it with a half day of productive coworking. Bring your laptop, charger and any other work you want to do! coLab has a fantastic space with free wifi, coffee and tea, a kitchen and a lounge.
Cohere is a weekly meeting that focuses on four key areas:
Building a vibrant network: members are not just 'connections'; they are your community of supporters who are invested in each other's success and well-being.
Sharing wisdom: every gathering is filled with gifts of learning, challenge, growth and gratitude.
Getting and giving support: present your issues to find clarity and get unstuck with the guidance of mentors, coaches and experts.
Amplifying ideations: pitch your impactful ideas for feedback, guidance, and collaboration.
This event is free but requires advance registration.
About the Organizer Okanagan coLab
coLab is a coworking collective of highly conscious entrepreneurs that is reimagining how community lives, works, and plays. A community built around five core values: Community, Collaboration, Creativity, Purposefulness, and Celebration.
By becoming a coLab Community Member, you're joining a network of leaders, innovators, and collaborators. Take part in a thriving, local community dedicated to bringing out the best in one another!
Be our guest and meet the community
About the organizer
Since 2011, Okanagan coLab has been supporting new entrepreneurs and inspired creative professionals to work in a new way — through coworking. We are a community of people who choose to work together, more productively, to make our work, our lives, our cities and communities better.
The coLab has been home to hundreds for almost a decade — helping them find their career path, start and grow a business, and be a part of an amazing community. Being both a physical coworking space and an extensive virtual network means we live through values of Community, Collaboration, Accessibility, Sustainability and Openness. 
The serendipitous nature of our hub encourages people to share ideas, ask for help, and challenge each other to do better work. It encourages a sense of accountability to yourself and your business needs to help your business achieve the success you envision.
At coLab, you'll get access to awesome features like:
A centrally located office space in the heart of the cultural district of downtown Kelowna, just 2 blocks from the beach
Professional meeting rooms to give clients the right impression kept cleaned and disinfected on a regular basis throughout the day and before/after each usage
Rentable event spaces for workshops, presentations, or conferences with
Plenty of open office space for safe social distancing practices combined with the technology to simulcast for remote team management
Desks, breakout rooms, and whiteboards to make getting things done a breeze.
Furnished office spaces with desks and chairs and plenty of bright natural light
Preferred member rates for networking events and workshops
Extensive knowledge library of business development resources and startup support
Internet fast enough to keep up with high demand streaming video conferencing needs
Locally produced art and a cozy lounge to destress and re-adjust your mindset
The best coffee this side of Alpha Centauri (it's out of this world!)
A large diverse community dedicated to innovation and continual creative renewal