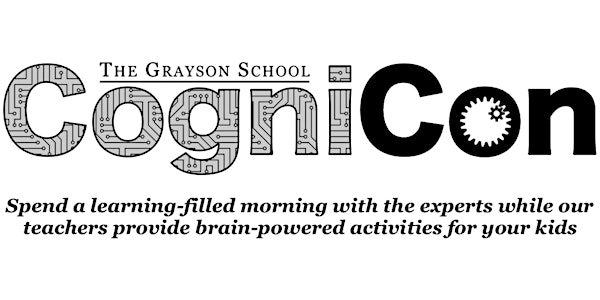 CogniCon
When and where
Location
The Grayson School 35 North Malin Road Broomall, PA 19008
Refund Policy
Refunds up to 1 day before event
Description
Join us for a fun, learning-filled morning of brain-powered activities for your child as you learn from experts in the field of gifted education and parenting gifted children. It is our mission to be a resource to the gifted education community by providing tools, ideas and activities to support parents, educators, and other professionals who work with gifted children in the greater Philadelphia region.
Meet and network with others who live with, work with, teach, and advocate for gifted children.

Explore resources from organizations that support gifted education.

Students will be placed in age, ability, and passion groupings for 3 hours of enrichment activities.
While your Pre-K through grade 8 children will engage with educators on a variety of activities, here are a few of the speakers we have planned for this exciting morning who look forward to answering questions and helping you navigate the joys of parenting and working with gifted children:
P. Susan (Sue) Jackson, founder of The Daimon Institute in Vancouver, Canada and creator of the widely praised documentary, RISE: The Extraordinary Journey of the Exceptionally and Profoundly Gifted. Sue shares her expertise in interpenetrating dynamisms within highly gifted children — of the intellect, the emotions, communicative capacities, social capacities, particular expressions of uncommon talent, just to name a few — as the first step towards the right approach to healthy development for our kids.
James O. Pawelski, PhD, is Professor of Practice and Director of Education in the Positive Psychology Center and Adjunct Professor of Religious Studies in the School of Arts and Sciences at the University of Pennsylvania. Along with his wife, Suzann Pileggi Pawelski, MAPP, a free-lance science writer and well-being consultant they have published Happy Together: Using the Science of Positive Psychology to Build Love That Lasts. This dynamic husband-and-wife team will share their expertise in bringing principles of positive psychology to a strength-based approach to parenting. Both parents and students (ages 10+) are encouraged to take the (optional) VIA Character Strengths survey to enhance your takeaways from their presentation.
Check-in between 8:30 - 8:45 a.m.
FAQs
Are there minimum age requirements to enter the event?
We offer students age 3-14 high-quality enrichment activities for only $25 each; we do ask that parents remain at our school for the morning and participate in our expert workshops (no charge).

How do I find The Grayson School and what are my parking options?
We are located at 35 N. Malin Road in Broomall on the St. Luke's Church campus. Click for a parking and entrance map.
How can I contact the organizer with any questions?
If you have any questions, or would like to share information about your services at our event, please email contact@thegraysonschool.org with "CogniCon" in the subject line.
We hope to see you there!