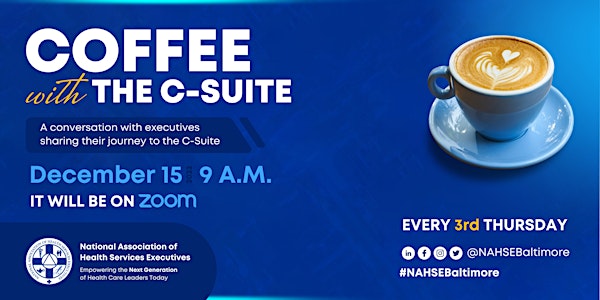 Coffee with The C-Suite
Please join us for Coffee with The C-Suite, a monthly conversation with C-level executives.
About this event
The journey to the C-Suite is attainable. Different leadership skills are needed for different times, different circumstances and different career-levels. When it comes to managing your own career, how do you prepare yourself to move up? What abilities should young would-be executives focus on developing as they choose companies, functions, and jobs? And what skills should working executives hone as they strive to reach the next level? Coffee with The C-Suite is a conversation with C-level executives, who will share their career journey and answer these questions.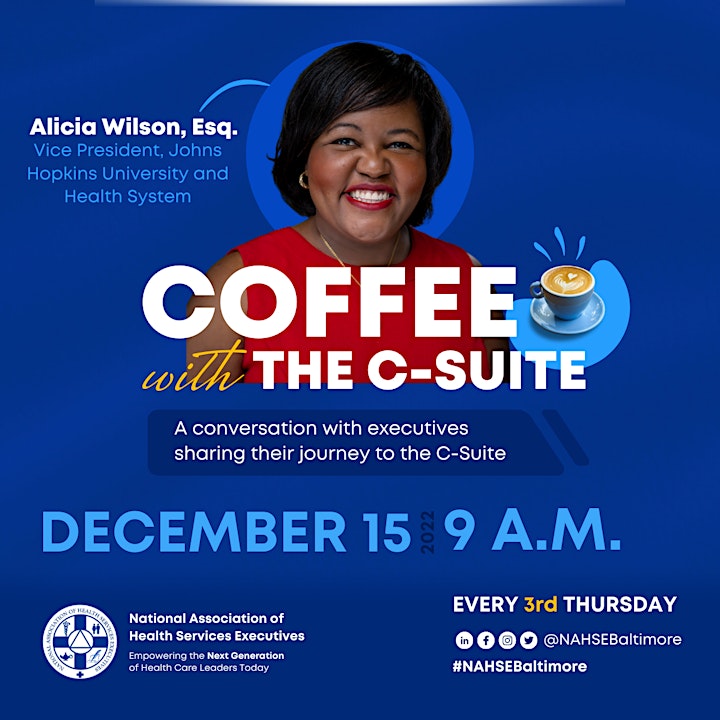 Alicia Wilson, Esq. is Vice President of Economic Development for Johns Hopkins University and Johns Hopkins Health System and Associate Professor in the Johns Hopkins Bloomberg School of Public Health and the Johns Hopkins Carey Business School, in Baltimore, Maryland. At Johns Hopkins, Alicia leads a core cross-institutional team focused on developing and implementing Hopkins' institution-wide strategies and initiatives as an anchor institution in and around its campuses both within the United States and abroad.
Prior to joining Hopkins, Alicia served as the Senior Vice President of Impact Investments and Senior Legal Counsel to the Port Covington Development Team., where she ensured that the $5.5 billion Port Covington Development Project generated a measurable beneficial social and environmental impact alongside a financial return for its equity investors. Alicia also served as the principal negotiator of the tax increment financing ("TIF") legislation and the two largest Community Benefit Agreements in the history of Baltimore associated with the passage of a $660 million TIF bill, the largest TIF awarded in the history of the United States at that time.
Prior to joining the Port Covington Development Team, Alicia was litigation partner at the downtown Baltimore law firm of Gordon Feinblatt.
Alicia is actively involved in civic and charitable organizations. She currently serves on the boards of the Center for Urban Families, the University of Maryland School of Law Board of Visitors, the Walters Art Museum, and the National Diverse Attorney Pipeline Program. She is also co-founder of the Black Philanthropy Circle at the Baltimore Community Foundation. Most notably, Alicia was recently elected as Chair of the CollegeBound Foundation and as such is the first CollegeBound Foundation alum, first woman, first African-American and youngest Board Chair in the thirty history of the organization.
For her accomplishments and public service, Alicia has received numerous awards and honors. Most recently, Alicia received the 2021 Humanity of Connection Award from AT&T for her commitment and leadership in advancing anchor strategies that elevate and expand communities through economic development, healthcare, and education. She was also recognized, in 2021, by Black Enterprise as one of the 40 leaders under 40 who are "changing the world at local, national, and global levels."
Her professional and civic leadership have propelled her to the forefront of local and national media attention. Most recently, Savoy Magazine recognized Alicia as one of the "Most Influential Black Executives in Corporate America". She was also named a 2022 "Women Who Wins" and Newsmaker of the Year for 2021 by the Afro-American Newspaper. In 2020, she was recognized as one of the Top 25 Emerging Leaders in Healthcare by Modern Healthcare. In 2019, Alicia was profiled in Forbes magazine as the "The Black Millennial Lawyer Making Michelle Obama More Accessible to Baltimore's Youth" and Savoy magazine named her one of the "Most Influential Women in Corporate America" for 2019. In late 2018, the National Business Journal named Alicia as one of the nation's Top 50 Influencers under 40 and in that same year Black Enterprise produced a television feature on Alicia for her work in securing the $660 million tax increment financing for the Port Covington Project.
Alicia is a proud graduate of the University of Maryland Baltimore County (UMBC) and the University of Maryland Francis King Carey School of Law.
Registration is required and open to NAHSE Baltimore members and their invited guests. Invited guests are required to register and list a NAHSE Baltimore member to receive the event link and join. Note registration closes at 8:00 AM the day of the event.
To learn more about membership, visit - bit.ly/NAHSEBmoreMembership.
Email questions to nahsebaltimore@gmail.com.