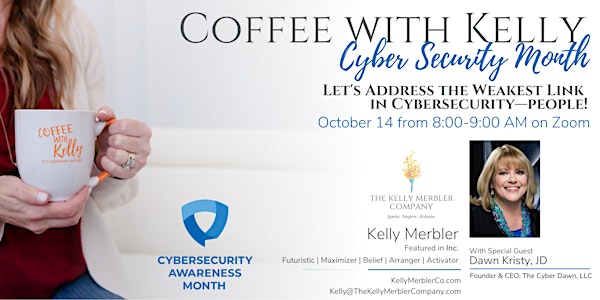 Coffee with Kelly-Special guest Dawn Kristy
Cake with Kelly
About this event
"Human error is the root cause of most cyberattacks."
Author of her first book published this summer, 33 Ways Not to Screw Up Cybersecurity.
Dawn Kristy, the CEO of The Cyber Dawn, offers awareness training to business leaders and their staff, law firms, healthcare organizations, higher education, and nonprofits to bolster their ability to prevent or respond to cyberattacks. Dawn founded the business after eleven years of working at brokers focused on cyber risk, insurance, and solutions.
Dawn's mission is for her 33 Ways book to guide readers with examples and checklists in 33 short, easy-to-read chapters or "ways" as they build a solid cyber-secure foundation.
You will find periodic updates on The Cyber Dawn website https://thecyberdawn.com/ where you can also subscribe to the newsletter.
Follow Dawn Kristy on Amazon, Goodreads, and social media to stay current on emerging risks in cyber and beyond.
We hope you will join us!
What is Coffee with Kelly?
Our Mission: Build community and promote personal and professional growth through inspiring others one cup of coffee at a time.
We like to call it – leadership caffeine.
OUR CORE VALUES: B.R.E.W
Be Yourself. (That's what makes you unique.)
Respect others, no judgment (even if you love decaf)
Encourage growth and development through sharing ideas.
We create a culture of community by valuing everyone. Seriously, everyone.
I am often asked if I have time for a phone call or a cup of coffee and with my busy schedule, I am not always able to say yes. I thought I would organize a morning to have "Coffee with Kelly" so that people can come meet me over my favorite beverage and ask me anything they want about career advice, personal growth, or to get a little inspiration that maybe you aren't getting elsewhere.
Sometimes it's nice just knowing people are out there to support you.
All you need to do is reserve your spot by registering, grab your coffee the morning of, and log into the Zoom link that generates from Eventbrite.
Someone once reached out a hand to help me and gave me the gift of their time so this is my way of paying it forward for other people who are in that place that I was.
People don't come to Coffee with Kelly. People ARE Coffee with Kelly.