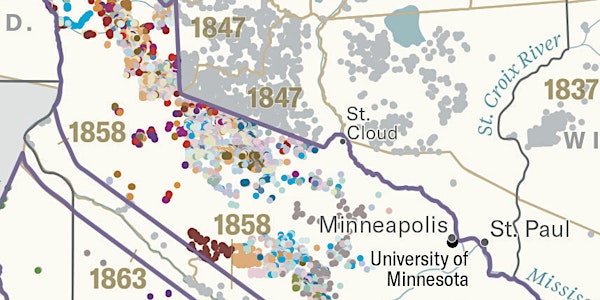 Coffee & Viz: Mapping Land-Grab and Next
Please join us for this great program.
When and where
Location
James B. Hunt Jr. Library, Teaching and Visualization Lab 1070 Partners Way Raleigh, NC 27606
About this event
The Land-Grab Universities project presents archival evidence and historical narrative through multiple points of entry: writing, cartographic design, interactive web map, photography, and open data. In this talk, cartographer and writer Margaret Pearce will look at how the maps and graphs are designed to amplify the project for accountability and specificity at multiple scales, then consider how cartography might contribute to inspirations for what can come next, to keep accountability on the table.
Margaret Pearce is a Citizen Potawatomi tribal member and cartographer living on Penobscot homelands in Maine. She sees cartographic language as a powerful mode of graphic expression complementary to writing and speech, where narratives and dialogues across cultures and between viewpoints can be explored and new possibilities given room to emerge and flower, in particular for the expression of Indigenous geographies. She holds a Doctor of Philosophy degree in Geography and taught courses in cartographic history, theory, and practice as a geography professor for 15 years. Margaret Pearce is a 2022 National Geographic Wayfinder Award recipient.
This talk is part of the event Honoring Indigenous Communities: Understanding the Morrill Act's Past, Present, and Future.
Please register here to participate in this event. Note that this event will not be recorded.
*Complimentary coffee, tea and light refreshments from local business Anisette will be available beginning at 9:15 a.m. in an adjacent space. To help increase the sustainability of this program, please bring your own coffee mug.