Coffee & Prejudice (Swiss) and 15'000 Gray (German)

Multiple Dates
Event Details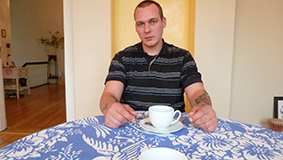 Coffee & Prejudice (Swiss) invites the audience to test its powers of judgment live in a 1:1 confrontation. Each participant is alone with a performer at a table, listening to his/her story, unable to really (re)act or escape. And then this performer leaves, and the next one enters.
Developed by Karin Arnold & Jessica Huber from MerciMax, a Swiss theater collective that displays a special interest in theatre forms beyond the stage while playfully experimenting with the spectators' perspective, in collaboration with The Shakespeare Theatre Company.
In 15'000 Gray (German), the audience members solve a mystery in the office/laboratory of Professor Hövel and prevent his groundbreaking discovery from falling into the wrong hands using techniques familiar to them from classic point and click video games. The audience members make decisions for the actors about where to look for clues, what action to take, etc. The actors do nothing without being told by the audience. The technological elements, including lights illuminating specific areas of the room, phones ringing, etc. will help guide the audience through the puzzle to save the professor and the world.
Developed by Laura Schaeffer & Philip Steimel from machina eX, a group of young German media and theatre artists designing computer games in real life environments, in collaboration with Studio Theatre.


Audience limited to 8 participants.

Where

Goethe-Institut Washington
812 7th St NW
Washington, DC 20001


Multiple Dates
Add to my calendar
Organizer
Zeitgeist DC
The cutting-edge theater genre "Participatory Theater" will be the focus of the 2014 Zeitgeist DC International Festival and Symposium. Theater innovators from Germany, Switzerland and Austria will collaborate with Washington, DC actors and directors on audience-interactive performance events and a unique hands-on symposium. The Festival, which takes place at the Goethe-Institut and at Georgetown University May 10-12, 2014, will examine integrative techniques, technology design and theory.
Participatory theater lies at the intersection of aesthetics, actions and experience. A highlight of this three-day theater event, now in its fourth year, will be the transatlantic dialogue addressing the shifting balance between the artist and the audience in performance and its potential for questioning form, aesthetics, and content in theater art, civil engagement and social justice.
Organized by Zeitgeist DC, a collaboration of the Goethe-Institut Washington, the Embassy of Switzerland and the Austrian Cultural Forum, in partnership with the Laboratory for Global Performance and Politics (Georgetown University), the Shakespeare Theatre Company, Studio Theatre, and dog & pony dc.

Festival Artistic Director: Gillian Drake; Symposium Director: Derek Goldman
Coffee & Prejudice (Swiss) and 15'000 Gray (German)