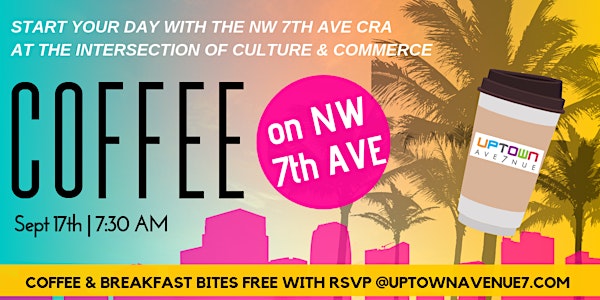 Coffee on Seventh w/ Uptown Avenue 7
START YOUR DAY WITH US, meet the NW 7th Ave CRA board, learn about grants and network with other businesses.
When and where
Location
Seltzer Mayberg, LLC 10750 Northwest 6th Court Miami, FL 33168
About this event
START YOUR Day with Uptown Avenue 7. Miami Dade Commissioner Jean Monestime and the Northwest 7th Avenue CRA welcome businesses, artisans, and residents to complimentary coffee & light bites at Seltzer Mayberg Law Firm from 7:30 to 9am on September 17th. Learn about Northwest 7th Avenue business grants, arts and culture activations, and the future of Uptown Avenue 7.
Coffee and breakfast bites are being sponsored by Seltzer Mayberg Law Firm.
ABOUT UPTOWN AVENUE 7:
NW 7th Ave is a critical linchpin in Miami's economic development… over 558,000 vehicles travel the Uptown Ave 7 corridor everyday, making Uptown Ave 7 one of one of the Region's premier locations for business development, growth and innovation.
The Mission of the Uptown Avenue 7 CRA is to:
Reposition Northwest 7th Avenue as a major regional employment center.
Support the growth and expansion of existing businesses in the CRA.
Support development of new business in the CRA.
Provide training and increased employment opportunities for residents of northwest Miami-Dade.
Redevelop the 7th Avenue corridor, supporting a mix of business, residential and commercial opportunities within the CRA.