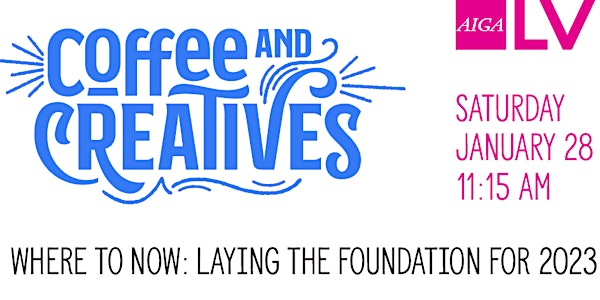 Coffee & Creatives January 2023
A free networking and social gathering focused on how creatives can kick the new year off right.
When and where
Location
Tenaya Creek Brewery 831 West Bonanza Road Las Vegas, NV 89106
About this event
Where are you heading in 2023? If you want to become a stronger more strategic designer, keep your focus, and network more —we've got you covered. AIGA Las Vegas has one goal for the new year: to provide value for your AIGA membership. We can't wait to lay the foundation for 2023 with you. Keep your eyes peeled as we share the list of speakers, interactive workshops, and bigger networking meetups for the new year.
Join us Saturday, Jan. 28 at 11:15 AM at Tenaya Creek Brewery & Restaurant (all ages welcome)
RSVP today!
RaShelle Roberts is the founder of www.rashelleroberts.com which specializes in coaching creative professionals. In 1998, RaShelle saw the need to develop customized programs and strategies to meet the specific challenges creative businesses & teams face. Prior to forming her coaching practice, RaShelle operated as a partner/creative director, directing the marketing and business development of a thriving design firm in Southern California. She has studied under the industry's top leaders - attending and leading sessions that discuss leadership skills, innovative business-development techniques, and marketing strategies. RaShelle is recognized by industry leaders around the globe for her unique ability to develop flexible, innovative programs that fit the needs of each client. Programs include 1:1 coaching, group workshops and various multimedia courses. RaShelle developed The Creative Business Manifesto™, a course for 'creatives' to design a personalized plan that lays a solid foundation to run a solo business with longevity, sustainability and strength. RaShelle's workshops have been featured at the HOW Design Conference, AIGA San Diego Y Conference and numerous in-house creative teams. Programs and workshops have been developed including BREW Las Vegas, San Diego, Orange County and various chapters of the AIGA, the Graphic Artists Guild, PRSA and others. In addition, RaShelle has contributed to both the Self-Promo Issue and the Business Annual for HOW Magazine She is an active member of the creative community, has served on several chapter boards of the AIGA, she is a mixed media artist, is an unschooling mother of two and works closely with organizations that support creative expression as a way of healing for at risk youth. web: rashelleroberts\.com \| social: rashelleroberts