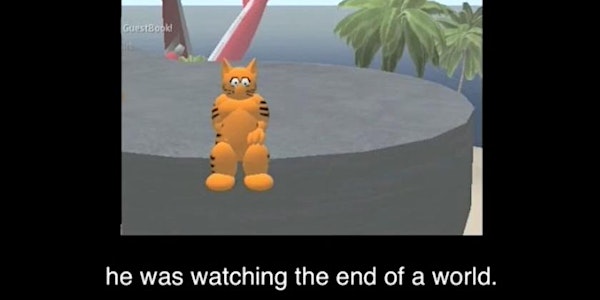 Coffee & Conversation: Hilary R. Whitham on Chris Marker
When and where
Location
Institute of Contemporary Art 118 South 36th Street Philadelphia, PA 19104
Description
Enjoy a complimentary cup of coffee and join Penn History of Art PhD Hilary R. Whitham for an intimate conversation about Chris Marker's Ouvroir, the Movie (2010), featured in Myths of the Marble.
In an interview in 2010 via Second Life (SL), filmmaker Chris Marker asserted that he was not interested in politics, but rather history. Marker's notion of history, however, is dialectical. He creates works of art firmly grounded in the present which incorporate references to the past that flash up at us. For example, his avatar, Guillaume the Cat, who leads us through the museum he constructed within SL and which he offers us glimpses of in Ouvroir, the Movie, conjures several important historical Guillames―particularly Apollinaire, the poet.
Yet Marker's work is not only invested in remembering the past but also in imagining the future: Ouvroir concludes with the question, asking us what will we do as witnesses to history? In this Coffee & Conversation, Whitham will discuss the potentialities and limits of historical comparisons and the way in which art opens up a unique space for these types of imaginings.
This event is free and open to the public. For more information, visit our website.