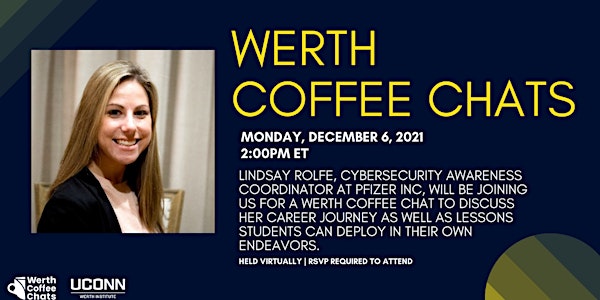 Coffee Chat with Lindsay Rolfe
Lindsay Rolfe, Cybersecurity Awareness Coordinator at Pfizer Inc, will be joining us December 6th, 2021, at 2pm for a Coffee Chat
About this event
On Monday, December 6th at 2:00pm, The Werth Institute's Coffee Chats will be hosting Lindsay Rolfe, who will discuss her career journey as well as lessons students can deploy in their own paths.
Werth Coffee Chats are intimate discussions with authors, corporate leaders and entrepreneurs about issues of relevance to students. Leveraging our alumni network, we offer these intimate chats to provide topical thought leadership access to the curated student groups.
Attendance is capped at 12 UConn students to keep the ability to ask questions and engage with the guest speaker. Please RSVP by ordering a free ticket and the zoom link will then be sent to you.
More about Lindsay...
Lindsay Rolfe is currently a Cybersecurity Awareness Coordinator at Pfizer, where she worked previously as a Senior Cyber Threat Intelligence Analyst. Prior to joining Pfizer, Lindsay held positions at Citizens Bank and SyncState.
Lindsay received her M.S. and B.A. from Salve Regina University. Active in her community, she is also the Founder of Run to the Roar, a charity movement raising money towards mesothelioma research.