Hosted by SVA Career Development
About this event
Thursday, October 7 AND Thursday, November 11 at 11:00am ET
Come learn what Career Development has to offer during your studies at SVA through a brief virtual presentation about our services and resources, the Internship-for-Credit Program, and the various events we host. You can ask questions, connect with our staff, and learn how to best utilize one-on-one career counseling appointments and Virtual Office Hours.
Each date will offer the same presentation but with a different brief special topic at the end. Choose one or attend both!*
Special Topic for October 7 - A Deep Dive into Our Resources
Special Topic for November 11 - Resumes!
*Freshmen and first-year undergraduate students must attend one of these workshops and review our Resume and Cover Letter Guide before booking a career counseling appointment.
Click the "Register" button on the Eventbrite page to RSVP, and a Zoom link will be sent in your registration confirmation email.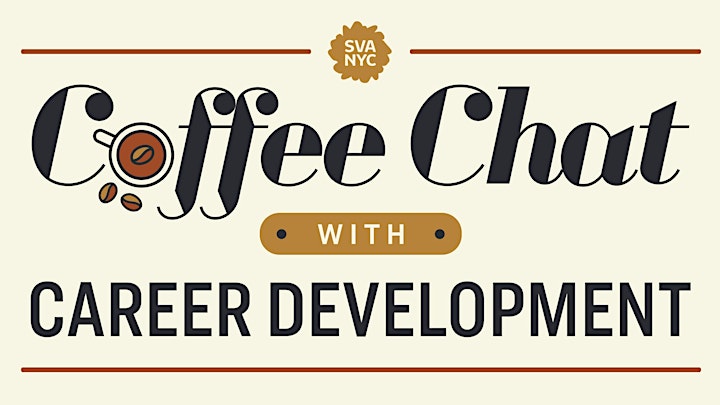 Organizer of Coffee Chat with Career Development
SVA CAREER DEVELOPMENT supports students and alumni in building their professional networks while providing them with the information and resources they need to prosper as creative professionals. In addition to offering educational workshops and career counseling, the office hosts career fairs and industry events that directly connect students with industry. Our Internship for Credit Program provides opportunities for students to work with creative professionals at top New York City-based agencies, as well as in their home cities over the summer.
Recruiters from top creative companies visit campus to meet with students, review portfolios and promote their employment opportunities through the College's exclusive Online Job Board. 
To book a one-on-one counseling appointment with one of our career counselors, please use our online booking site.