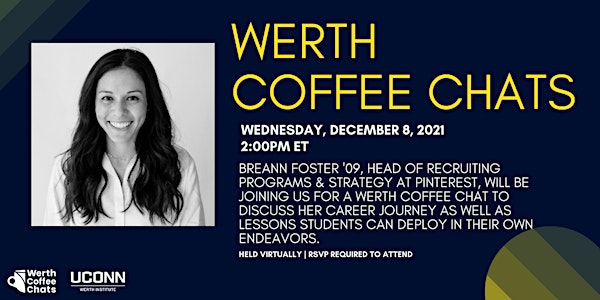 Coffee Chat with BreAnn Foster '09
BreAnn Foster '09, Head of Recruiting Programs and Strategy at Pinterest, will be joining us December 8th, 2021, at 2pm for a Coffee Chat
About this event
On Wednesday, December 8th at 2:00pm, The Werth Institute's Coffee Chats will be hosting BreAnn Foster '09, who will discuss her career journey as well as lessons students can deploy in their own paths.
Werth Coffee Chats are intimate discussions with authors, corporate leaders and entrepreneurs about issues of relevance to students. Leveraging our alumni network, we offer these intimate chats to provide topical thought leadership access to the curated student groups.
Attendance is capped at 12 UConn students to keep the ability to ask questions and engage with the guest speaker. Please RSVP by ordering a free ticket and the zoom link will then be sent to you.
More about BreAnn...
BreAnn Foster graduated in 2009 from the University of Connecticut's School of Business with a bachelor's degree in Accounting. She was a Division I scholarship athlete and captain on the UConn Women's Tennis Team from 2005-2009. Post UConn, she obtained a Master's Degree in Accounting from Arizona State University and became a CPA (certified public accountant), starting her career at Deloitte within the Audit & Enterprise Risk Services practice. After four years in public accounting she transitioned careers moving to Silicon Valley and pivoting into tech. In 2014 she joined a startup, Pinterest, where she joined to be all hands on deck within the Human Resources and Recruiting function. She's been with Pinterest for the last 8 years and has helped scale the company from sub 200 employees to over 5K and expand from a domestic to global presence. She has worked on every aspect within Human Resources and Recruiting from performance management, global mobility, compensation, employment law, people analytics, talent strategy, event management, operations, recruiting, program management, and leading future of work.
Today, her job scope includes leading the global recruiting programs and strategy function which includes company wide talent strategy programs (e.g. Internal Mobility and Employee Referrals) and early career hiring and programs (e.g. University hiring, intern programs, apprenticeships). In 2021, she was asked to lead the inaugural Pinterest Change Network which encompasses 50 employees across the world that work on helping activate cultural change throughout the company. Today, BreAnn works remotely for Pinterest, is an active advisor to multiple companies and committees, and resides in Phoenix, AZ with her husband, 1 year old daughter, and dog.