Description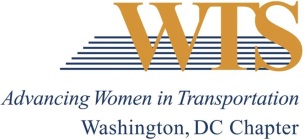 Join WTS-DC for an exclusive opportunity to have coffee with Beverley Swaim-Staley! This event will be limited to 15 people and all attendees will be seated around the table with Beverley. This is your opportunity to meet and chat with an executive woman leader in the transportation industry in a casual forum designed for you to ask questions!
Beverley is the President and CEO of the Union Station Redevelopment Corporation, where she manages the renovations and new developments at Washington Union Station. She has spent her career working her way up in the transportation industry. Starting in the Maryland State Legislature, Beverley went on to become the first female Secretary of the Maryland Department of Transportation.
Coffee will be provided. Please arrive by 8:45am to go through security; the event will begin at 9am.
WTS-DC is grateful for the support of our event sponsor:

Transportation:
Accessible via the Metrorail Red Line, DC Streetcar, and various Metrobus and DC Circulator lines.
For questions about this event, please contact Neela Babu at neela.babu@wsp.com.
Online registration closes on Friday, October 26, 2018 at 12:00pm.
Cancellations: If you have made a reservation but find you are unable to attend, you must cancel by Friday October 26, 2018 at 12:00pm. If you need to cancel, please send an email to wtsdchospitality@gmail.com as soon as possible.