Coffee and Dessert Producer Tour
Description
Join CUESA for a behind-the-scenes view (and taste) of some of San Francisco's most talked-about food and beverage crafters.
We'll start our tour at Four Barrel Coffee with a coffee cupping in their training lab and an opportunity to meet with the roasters, then head to Three Babes Bakeshop in the Dogpatch for some hands-on kitchen activity. We'll wrap up at Craftsman & Wolves with a taste of the pâtisserie's artfully crafted seasonal pastries and confections in their soon-to-open retail shop, and a look at the production kitchen in the Bayview.
Participants will meet at Four Barrel in the Mission District and must arrange their own transportation to each location. Details will be provided to all registrants
Four Barrel Coffee is old-fashioned...about roasting. They rely on highly trained people, not computers, to see through the intention of their roasting style. They roast on a hulking beast of a vintage German roaster - one that was made to hold consistent heat and let air flow through in simple says, controlled by a human being...just like you. Their style highlights the intrinsic qualities of each coffee that drove them to buy it in the first place: cleanness, sweetness, acidity, complexity. Where does great coffee come from? It comes from third generation farmers and mill workers in Latin America, Indonesia and East Africa. And that's where they go to find it, forging relationships that ensure quality of life for their producers, and high quality coffee for their roastery in San Francisco. They spend months of every year on the road, visiting and cooperating with the folks who make it all happen, at the source.
Anna and Lenore of Three Babes Bakeshop love baked goods, seasonal, organically grown produce, and California! They are proud daughters of California's Central Valley and friends since 3rd grade. They're committed to bringing people together and creating positive change in their community through food. They are proud to source many of their ingredients from farmers who have known their families for years, and to bring attention to the hard-working individuals who cultivate the delicious produce for which California is known. They use ONLY organically grown ingredients to make their delicious pies
.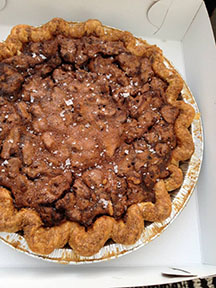 Craftsman and Wolves is a contemporary pâtisserie and cafe with two locations in San Francisco and a stand at the Ferry Plaza Farmers Market on Saturdays. Under the direction of Chef William Werner, CAW offers an ever changing menu of breakfast pastries, cakes, breads, confections, confitures, desserts and lunch. The name is a nod to the craftsman and the numerous challenges that one faces when pursuing his or her craft. For William, Craftsman and Wolves is the pursuit of fifteen years' experience in restaurants and hotels on both the East and West coasts, during which he has refined techniques for pastry and chocolate work, honed in on his presentation style, and expanded his palette of flavors.

Tickets will include snacks and tastes at each stop. Since this is an urban half-day tour, lunch will not be provided. Tickets are nonrefundable but transferable.
Where to meet: Meet in front of Four Barrel Coffee at 375 Valencia St. The addresses of the other stops will be provided to all registrants. Please arrive by 9:00 am. Please be prompt! We cannot wait for stragglers.
Things to know: You will be responsible for arranging your own transportation to each stop on the tour. Street parking will be available in the area of each business, but the timing of each stop will be geared to those attendees taking public transit. If you will be driving, you will probably have some "extra" time between stops, but we will not start the tour any earlier than the stated time at each location. MUNI directions and schedules will be provided.
The tour is geared toward adults and will probably not be enjoyable for young children. Children who are likely to appreciate an adult-level tour are welcome to come with their guardians. Please call if you have questions.
Bring: A water bottle, layers. Optional: A Clipper card or cash for transportation, a camera, and cash for purchases.
This tour is organized by CUESA (Center for Urban Education about Sustainable Agriculture), as part of our mission to cultivate a sustainable food system. CUESA organizes six tours each year to Ferry Plaza Farmers Market farms and artisan food businesses in order to give eaters a first-hand look at where their food comes from and how it is produced. For more information or to sign up for our weekly email newsletter, visit www.cuesa.org.
We sincerely thank our farm tour sponsor, First National Bank of Northern California, for underwriting tour costs and Coach 21 for providing a discount on the bus charter fee, when transportation is provided.