Become educated in the subject of IMPACT & SUSTAINABLE investing. Get the facts.
About this event
Phoebe Stone, Partner & Head of Sustainable Investing at LGT Vestra is going to talk about sustainable, impact investing. Also, hear from Gary Jolliffe, Director of Till the Coast is Clear about the fantastic work they do tackling plastic pollution.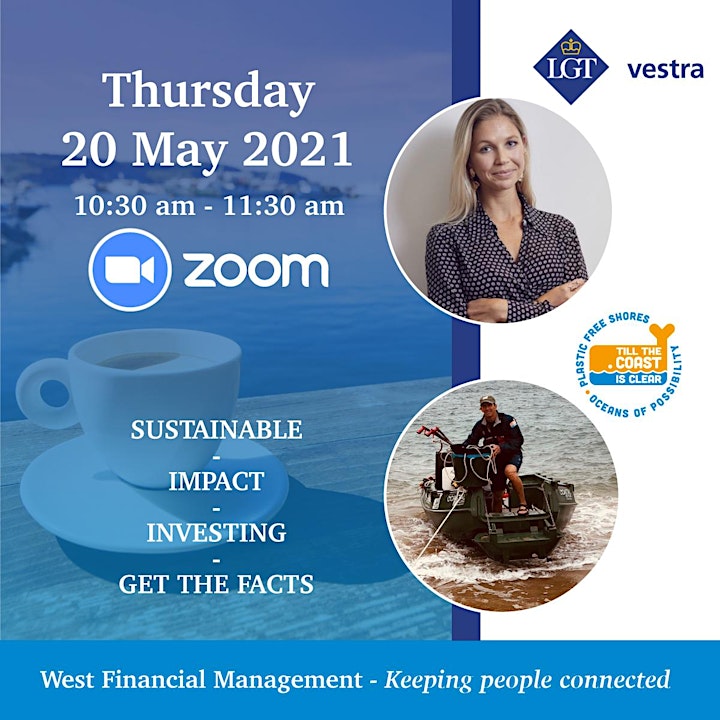 Organizer of Coffee and Chat - Sustainable Investing
The West Financial Management Team
Warm and welcoming, the team at West Financial Management are here to help you plan and protect your financial future. One of the most important things is protecting your investments so that you pass on the maximum amount (with minimum tax) to the next generation.
A Bit About Us
Based in central Plymouth, we've been providing bespoke financial planning services since 2003 and have built up a loyal and very satisfied client base. We have achieved the ISO22222 standard and are committed to staying up-to-date with industry developments.
We aim to help you to achieve a sustainable, tax-efficient income and work on growing your assets to keep pace with inflation. You'll find our advice is impartial, always keeping your interests as the priority.
Along with our vast industry experience, this careful, personal service keeps our clients coming back. So what can we do for you?