Description
For Ages 10-900+ years old. No experiences needed, bring your enthusiasm!
Parental accompaniment required for ages 10-15.
Have you always wanted to code? Need a starting point? This is your blastoff into computing and launch pad for more advanced Bellingham Makerspace tech classes!
Price includes your own Adafruit Circuit Playground Express (CPX) - a small, powerful, friendly computer with plenty of built-in functions!
You'll learn the cornerstones of coding:
Program flow: Instructions, repetition, decision-making

Variables: count, measure, and remember things

Interfacing: Communicate with sensors, lights, sound, and more!
You'll create your own CPX projects using Microsoft's MakeCode. In later classes, you'll expand your knowledge using programming languages like Arduino and CircuitPython and connect to diverse electronic devices!
Course Details
What you need for this class:
A Windows, Mac, or Linux laptop/portable computer to bring with you
What you don't need for this class:
Coding / Programming experience

Soldering experience
What is the Circuit Playground Express (CPX)?
Circuit Playground Express is the perfect introduction to programming and electronics - it has something for everyone!
Circuit Playground Express is a small, inexpensive, but powerful computer designed for beginners.
What kind of things can it do by itself?
What can it do with relatively little extra cost? [$10-$100, probable soldering and breadboarding]. Check out our advance classes that will show you how you to do these things.
GPS

Bluetooth

Compressed audio (mp3)

SD card storage

Simple LCD display

Motor control
What can't it do (without a lot of extra cost?)
Video

Home automation

Web programming
Instructor Bio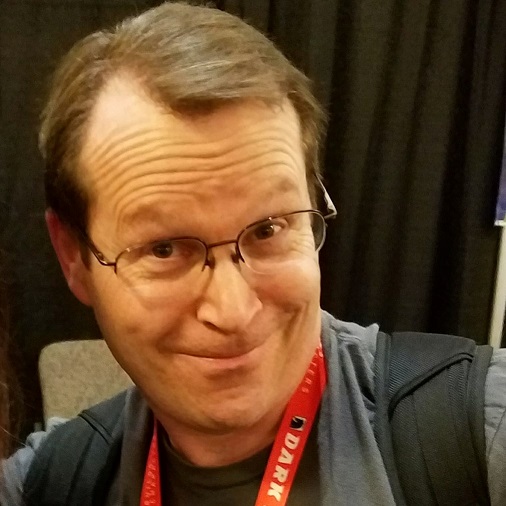 Determined to learn how video games worked, Sean Igo wrote his first computer program when he was 11 years old. Since then he's ranged all around the software engineering world - with stops in telecommunications, medical AI research, and Natural Language Processing as well as console and computer game development. He's never lost that feeling of triumph that comes from making a program work, even the simple ones. That joy is what he hopes to communicate through teaching at Bellingham Makerspace. Coding is the best computer game of them all!
Sean Igo is a software engineer in the Greater Seattle area. He can be found working on various woodworking projects at Bellingham Makerspace in his spare time.
IMPORTANT EVENT INFO
Class fees: All class fees include materials, including the Circuit Playground Express and accessories.
Scholarship Donations: Want to throw a little extra in to support our scholarships? There's a donation option at registration to add any amount that you want to pay forward. A donation receipt will be included with your registration confirmation email.
Refund policy: Refunds are offered up to 7 days in advance.
Ticket sales cutoff: If no students have signed up by 3 days before this event, it will be CANCELED.
Other FAQs
When and where to arrive?

Plan to arrive 5-10 minutes before class to settle in and be ready to go! Signs inside the entrance will guide you to our classroom.
What to bring/not to bring?

Please bring a laptop computer with a Standard USB port.

For your personal safety, please wear closed-toe shoes, tie long hair back, and avoid any dangling jewelry or baggy clothing. You may also want to bring a water bottle and a snack.
Do I have to bring my printed ticket?

No - we'd prefer to save a few trees! We can look up registration details electronically if need be.
Is there an age limit?

All our classes are 18+ unless otherwise indicated in the class description.
Other questions? Email us at manager@bellinghammakerspace.org