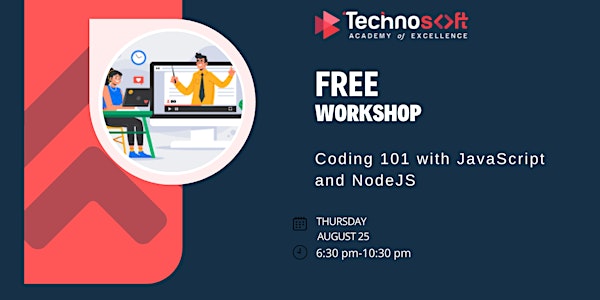 Coding 101 with Javascript and NodeJS
Join our free remote online live workshop where you get to start on coding with no background in programming
About this event
Join our free remote online live workshop where you get to start on coding
with no background in programming. Our interactive learning model
will allow you to ask questions during the session and get answers from our
instructor with support even after the workshop. If you are looking to get
into software development or QA Automation engineering career, this Workshop
will be great starting point for you.
Outcomes:
At the end of this workshop, you will:
Understand the basics software developer role
Understand how Javascript and NodeJS work together on backend.
Create simple backend app.
In depth understanding of Career in software development and QA Automation engineering
Topics:
1. What is Javascript and how it all works?
2. Basic JS code along on variables and control flow
3. Define user requirements
4. Convert user requirement to code
5. Script unit test to make sure everything is working as expected
6. Final demo to display how it all worked.
Material Requirements:
Windows or Mac laptop