Description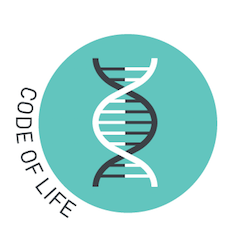 The HudsonAlpha Educational Outreach team provides several weeks of summer Biotechnology Camps for middle school students. These half-day camps, housed within the educational spaces at HudsonAlpha, are available to rising 6th through 9th grade students.

The Code of Life (Basic) Middle School Biotech Camp
will be held June 18-22, 2018 from 1:00 pm to 4:00 pm daily
This Code of Life camp focuses on DNA. Young scientists begin the week by extracting DNA from a variety of organisms and end the week with a little genetic engineering. Campers learn how the information coded in DNA controls physical traits and investigate how changes in DNA may cause the symptoms of some genetic disorders. Students tour the HudsonAlpha facilities and meet with HA staff. The Code of Life Campers also investigate the many roles of enzymes in living systems. Throughout the camp, students use the equipment found in most science research labs and gain hands-on experience in micropipetting and centrifuging. The culminating experiment has campers creating glow-in-the-dark bacteria.
Students who complete the Code of Life Camp are eligible for one of two advanced biotechnology camps: The Secret Lab (formerly UDSO Challenge) and/or I Want to Work in a Lab Coat.

Registration will close May 18th, or once we reach capacity.

---

Eligibility and Tuition:
Eligible to rising 6th-9th graders

$150 tuition is due in full upon registration. Tuition also includes a daily snack and a t-shirt.

For needed cancellations, a full refund of $150 will be given until May 18th.

After May 18th, a $75 refund will be given until June 4th.
After June 4th, no refunds will be given for cancellations.

Prior to registering, please review our Lab Safety Contract and Waiver and Release/Emergency Contact Forms. These forms will be included in the camp packet that will be e-mailed to you prior to camp. Both forms must be signed in order for students to attend.


---